Barry Town United's Welsh League battle in court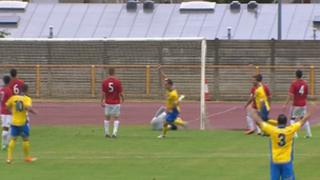 A football club has argued in court that it is entitled to play in the Welsh league despite being withdrawn in May.
Lawyers for Barry Town United, formerly Barry Town FC, told the High Court in Cardiff previous owner Stuart Lovering had withdrawn the club from the league.
But they said he had not been involved in running the team for two seasons.
The Football Association of Wales (FAW) said it wanted the club to rejoin its leagues but at a lower level.
Barry Town FC was withdrawn from Welsh League football by Mr Lovering at the end of last season.
Barry Town United was subsequently formed by supporters but the club has been denied full FAW membership and that means it cannot play in the Welsh League.
The club said it was entitled to be part of the league because it fulfilled the FAW's criterion to be one its member clubs.
Its barrister Jonathan Crystal told the court that Mr Lovering had had no involvement in running the football team for two seasons before he decided to withdraw the club from the Welsh League in May.
Therefore the FAW should not have accepted the resignation as Mr Lovering's limited company, Barry Town AFC Ltd, did not in reality constitute the football club, he argued.
Governing body
Mr Crystal also said that in the coming season, Barry Town United would be playing at the same ground, under the same lease, with the same manager and the same players, in front of the same supporters, with the bills and fees being paid by the same people.
He said Barry Town United was actually the member club of the FAW not Mr Lovering's company.
He told Judge Seys Llewellyn QC that the club had been in reality treated as members by the FAW for the previous two seasons, the governing body having gladly taken its money during that period.
FAW chief executive Jonathan Ford and former president Phil Pritchard were in court as the governing body defended the action.
Their barrister Nick de Marco said the FAW wanted Barry Town United to rejoin the system of leagues, known as the Welsh pyramid, but at a lower level.
He said they would support any application for Barry Town United to join the top division of the local South Wales league, one tier below the Welsh League.
The FAW also argued that it was normal at that level for supporters to fund the liabilities of a club, and it did not give them the right to assume the legal identity of the football club.
The judge is due to give his judgement on Friday afternoon.