Patients to return to flood-hit children's hospital by Thursday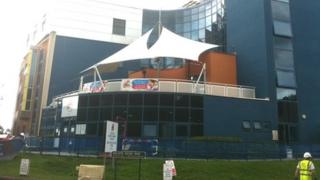 Patients evacuated from Wales' only children's hospital after heavy rain caused flooding are expected to begin returning to their wards by Thursday.
Eighteen patients at Cardiff's £10m Noah's Ark Children's Hospital for Wales were moved to wards at the University Hospital of Wales next door.
One senior doctor called it a "major incident" and said all four floors were affected by Monday's torrential rain.
The total extent of the damage is still being assessed.
Cardiff and Vale University Health Board (CVUHB) said patients were swiftly moved and nobody was injured.
A spokesman said despite the flooding, paediatric emergency and elective in-patient services remained unaffected.
Dr George Findlay, clinical board director for children and women's services, said on Tuesday that all four floors of the hospital had been affected by water that appeared to have come in from the top of the building.
"This is a major incident that we need to get to the bottom of," he added.
Work to determine the cause of the flooding and asses damage to the higher floors - where water has been found in the electrical trunking systems and light fittings - will continuing over the next few days.
Meanwhile, in an update on Tuesday evening, the health board said it expected some children to be moved back into parts of the children's hospital by Thursday.
Phil Barry, directorate manager for child health, said: "All the staff involved have been fantastic.
"Our priority has been to provide an environment and safe care to all those affected by the incident.
"Clinical, estates and operational services staff have been working together to begin putting things right and re-establish care in the children's hospital."
Services have been unaffected at the hospital and patients are advised to attend as normal, unless told otherwise.
'Calmly and swiftly'
Maria Battle, the health board's chair, said: "Staff at the hospital reacted calmly and swiftly to make sure everyone was safe and moved out of the affected areas and have been outstanding in making sure that services for children have not been disrupted during what was an unusual challenge for everyone involved."
Patients moved to other areas are being cared for by staff from the children's hospital.
The £10m first phase of the children's hospital, where the flooding occurred, opened at the University Hospital of Wales in 2005 and included two 25-bed medical wards and one 16-bed paediatric cancer ward.
Building work is currently being carried out on the second £63.8m phase which will have new wards, critical care facilities and four operating theatres.