Special bins allow chewing gum to be recycled in Cardiff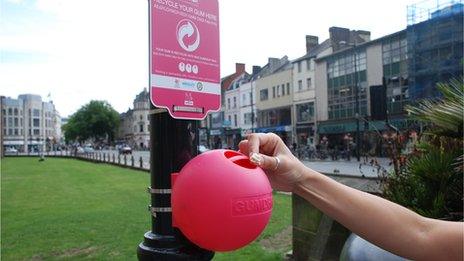 Dedicated chewing gum bins have been introduced in Cardiff in a pilot project to help clean up the city's streets.
The 100 bins - called Gumdrops - will be in place for six months initially, with the vast majority in the city centre.
The used gum collected in the bins will be recycled to produce new bins.
The scheme is funded by a chewing gum firm and run in partnership with Cardiff council and Keep Wales Tidy.
The council said chewing gum waste was being targeted in a zero-tolerance campaign.
Gum was very costly to remove from the streets and created a terrible impression in the city, the authority said.
Cabinet member for the environment Ashley Govier said: "Gumdrop bins are a great idea and will greatly enhance the options for people who need to get rid of their gum.
"The fact this waste can be recycled by Gumdrop is a fantastic bonus and hopefully it will prompt people to think before they drop."
Sian O'Keefe, senior manager of corporate affairs at Wrigley, said the company was excited to be involved in the project.
"Encouraging behaviour change is the only long-term and sustainable solution to the problem of littered gum and we are totally committed to tackling this issue," she said.
Louise Tambini, of Keep Wales Tidy, said stains from chewing gum were unsightly and very expensive for local authorities to remove.
Related Internet Links
The BBC is not responsible for the content of external sites.