Dolphins in Conwy harbour spotted near quayside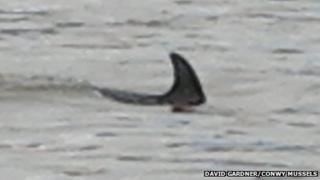 Local people have been enjoying the rare sight of a pair of dolphins in Conwy harbour.
Dolphins are not an unusual sight off the coast of Wales but residents said spotting them at this location is "something new".
Staff at the Conwy mussel plant and people on river boat trips saw the dolphins on Tuesday morning.
They were seen swimming around boats moored in the River Conwy, about a mile from the sea.
Trevor Jones from the mussel plant said it was the first time he had seen dolphins so far upstream in the 50 years he had been working on the river.
"I've never seen a dolphin here in the harbour," he said.
"You'll see them out at sea regularly, but never here in the river."
His colleague David Gardner was out on a boat and saw the pair come to the surface for air.
"They seemed quite small, either two young dolphins or a mother and baby," he said.
"We thought there was only one at first but when we watched the river for a while longer it was obvious there were two of them.
"They almost seemed to be following our boat. You could see their white underside, they were that close.
"You see seals in the estuary regularly but dolphins is something new."
Bryn Hughes, who was crewing the Conwy river boat cruises at the time, said: "There was quite a lot of excitement when the dolphins were first spotted.
"We saw them briefly jump out of the water round the boat.
"Several people tried to take a picture, though the dolphins were too quick for them most of the time."
The sightings comes after experts warned speedboats and water bikes using Cardigan Bay in mid Wales may be driving dolphins over a hundred miles north to quieter waters in north Wales and the Isle of Man for longer periods of the year.
The Sea Watch Foundation said that while other factors could be at play, such as changes in fish stock, prey and pollution, there was concern that an increase in recreational boat use was having an effect.