Abergavenny veteran Dennis Moss calls for WWII medal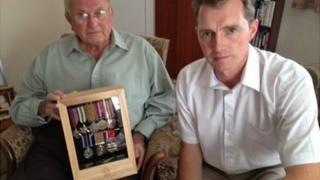 A World War II veteran who flew 40 missions on Wellington bombers wants more of his air crew colleagues to be recognised for bravery.
Those who served on Arctic convoys and in Bomber Command are to receive new medals.
But Dennis Moss, 89, from Abergavenny, will not be among them because he was based in Italy, not Bomber Command.
The Service Personnel and Veterans Agency has told him that is the reason he is not eligible.
Bomber Command was formed in 1936 and was tasked with attacking Germany's airbases, troops, shipping and industry.
A total of 55,573 of its airmen died in the war.
The Arctic convoys were made up of vessels which travelled from Britain to northern Russia to resupply the Soviet Union during World War II, and thousands of Allied seamen lost their lives.
Under the new system, veterans who served on both missions will receive either the new Arctic Star medal, or Bomber Command clasp.
Surviving veterans and widows are among the first to receive the awards, and the families of those who served can also apply.
However, Mr Moss - who served as a wireless-operator with 40 Squadron, 178 Squadron and 37 Squadron between April 1944 and the end of the war - does not qualify for the Bomber Command clasp.
He was based in Italy under Central Mediterranean Forces, not Bomber Command.
He applied for the clasp but was turned down, and then lost an appeal.
"I am very disappointed with this decision because I think all those who did a full tour of 40 flying missions should be recognised," he added.
"It is not just for myself but for those who we lost."
Mr Moss said he was "lucky to be alive" after his aircraft was shot down over Poland delivering supplies.
"I wasn't able to go on that mission because I had been in hospital.
"When I came out I rejoined a different crew.
"It shouldn't make any difference where people were based. All those who served as aircrew should be recognised in the same way."
In their letter explaining the decision not to honour him with a medal, the Service Personnel and Veterans Agency said although a page in his log book indicated that the squadrons he served in were in Bomber Command that was not the case.
"The annotation was probably included to denote the role of the squadrons you served with," the letter says.
"Regrettably this is why you are not eligible for the Bomber Command Clip."
Monmouth MP David Davies plans to write to the Ministry of Defence after taking up Mr Moss's case.
He said: "It it wasn't for the courage of men like Mr Moss then we would probably still be living under a dictatorship.
"All those who served as aircrew should be remembered in the same way.
"Either the eligibility criteria for the Bomber Command Clasp should be extended to those who flew under the command of Central Mediterranean Forces or they should have their own clasp."