National Eisteddfod: Carwyn Jones wants festival to travel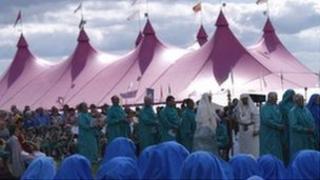 Wales' leading cultural festival, the National Eisteddfod, should continue to change venue, say First Minister Carwyn Jones and Welsh Secretary David Jones.
A taskforce is considering the event's future and looking at proposals such as holding it on the same site every year.
But both politicians told BBC Radio Cymru they wanted the eisteddfod to continue being held in a different area of Wales.
They were attending this year's event, in Denbigh, on Monday.
The taskforce, chaired by broadcaster Roy Noble, is due to present its findings in the autumn to the Welsh government, which is providing £500,000 funding to the eisteddfod.
The 12-member group, which also includes Hay Literary Festival director Peter Florence, has been examining nine ideas for the future of the festival.
The biggest proposed change would mean having a four-year cycle for the event.
In two of those years, the eisteddfod would be held at permanent bases, possibly in north west Wales and west Wales, while in the other two years it would alternate between temporary homes in north and south Wales as it currently does.
The possible tourism and economic benefits of such an arrangement are under the spotlight.