S4C to launch all programmes on BBC iPlayer next autumn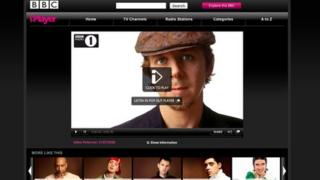 All Welsh language broadcaster S4C's programmes will be available on BBC iPlayer by autumn 2014, it has been announced.
Technical work on the project will start immediately.
S4C will be the only independent channel available on iPlayer and the broadcasters said the development reflected their "unique partnership".
The plan was approved by the BBC Trust after S4C made the request to appear on the on-demand video service.
Since April, the channel has been mostly funded from the BBC's licence fee but it remains operationally independent.
The aim is to launch the new service initially for a trial period of 18 months.
Sian Gwynedd, BBC Cymru Wales' head of Welsh language programmes and services, called it a significant development.
She said it would ensure all the BBC's and S4C's Welsh language television and radio programmes would be available in one place.
"BBC Wales is committed to broadening the appeal and reach of Welsh language content online and this development supports our desire to improve what we offer to Welsh speakers by making it easier for users to find Welsh language content," Ms Gwynedd said.
S4C says it is part of a strategy to increase the channel's availability but it insists the main channel will always be on air and the move to other platforms will be relatively inexpensive.
Chief executive Ian Jones said: "The great advantage of BBC iPlayer is that it is available on over 650 devices and platforms for free in the UK - which provide new ways to showcase S4C's excellent content."
As well as BBC iPlayer, S4C programmes will also be launched on on-demand service YouView, the free online service TV Catch-Up and You Tube.
In June, the iPlayer service received 239m requests for BBC TV and radio programmes, up 45% on June 2012.
BBC Wales' Welsh language programmes for S4C and BBC Radio Cymru's programmes are already available on the iPlayer.