Commonwealth Games Queen's Baton Relay route change plea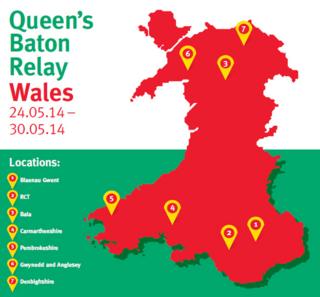 An assembly member wants the route of the Commonwealth Games' Queen's Baton Relay to be changed after it appeared to ignore communities in mid Wales.
Montgomeryshire AM Russell George is to contact the relay's organisers to convince them to visit the region.
The baton is due to stop in Blaenau Gwent, Rhondda Cynon Taf, Denbighshire, Carmarthenshire, Anglesey, Gwynedd and Pembrokeshire in May next year.
A relay spokesman said some smaller events might be held in mid Wales.
The route the Commonwealth Games' Queen's Baton Relay will take in Wales before it reaches Glasgow in 2014 was unveiled on Saturday.
Arriving at Cardiff Airport on 24 May next year, the baton will visit events and celebrations in seven counties over seven days.
Thousands turned out in places like Welshpool and Aberystwyth last year to watch the Olympic torch relay make its way through mid Wales.
But Mr George questioned why the region was being ignored by the Commonwealth Games relay just 12 months on.
"Following the Olympic torch relay last year which was incredibly well supported by people in mid Wales, I am extremely disappointed that the relay isn't stopping in mid Wales for the Commonwealth Games," Mr George said.
"I will be making my own inquiries with the organisers and I will be asking them to adapt the route so the relay can stop in mid Wales."
Chris Jenkins, chief executive of the Commonwealth Games Council for Wales (CGCW), said the Commonwealth Games' Queen's Baton Relay might visit mid Wales but details had not been finalised.
"The high level route released on Saturday gives a rough idea where the Commonwealth Games' Queen's Baton Relay is going," he said.
"But between now and March we will reveal smaller areas where we will be stopping and staging some smaller events.
"Some of these could be in mid Wales but the details have not been finalised yet."
Mr Jenkins said he was delighted by the interest communities had shown in hosting the baton relay.
One of the events the baton will visit will be the Urdd Eisteddfod in Bala, Gwynedd, on the Bank Holiday Monday, 26 May. Its final stop in Wales will be in Denbighshire on Friday, 30 May.
Before it arrives in Wales, the baton will travel the world.
The 190,000 km relay - far longer than the Olympic Torch relay - will travel to 71 nations and territories across the world in seven months before arriving in Scotland.
Since Wales hosted the first Queen's Baton Relay in 1958, the traditional opening of the Commonwealth Games has always been celebrated.
The baton, whose design has not yet been revealed, will leave from Buckingham Palace on 9 October.