Swansea to adopt disputed Single Status equality pay change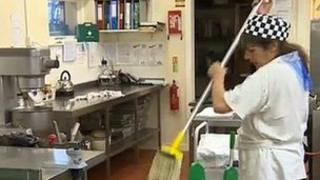 Swansea council is to press ahead with a new pay structure for workers, at a cost of £12m, despite the largest staff union rejecting the proposals.
The council's Single Status plan aims to satisfy equality legislation which affects all councils across the UK.
Around 4,300 Unison members rejected the scheme, with the union claiming up to half of staff would be losers.
The council said it was committed to the scheme but "further negotiations will not result in an agreement".
Swansea council says many of the lowest paid employees, including those working in catering, cleaning and care, would receive "significant pay increases" under the new pay structure.
It has estimated that around 20% of its 12,000 staff would see their pay reduced but they would have their pay protected for two years.
More than 3,000 of its lowest paid staff will receive a pay increase to £7.45 an hour, it said.
Deputy council leader councillor Christine Richards said: "We are disappointed that we couldn't reach a collective agreement with the unions, even though a majority of union members voted in favour of accepting the council's offer.
"We've been negotiating with the unions over a number of years and we've agreed many of the unions' proposals, but we've now reached the point where further negotiations will not result in an agreement.
"We are committed to introducing Single Status, especially for the thousands of staff who've been waiting patiently for their pay increase and back pay.
"We understand the concerns of staff who will be losing pay. They'll be placed at the top of their pay grade and will receive up to two years' pay protection to help cushion their loss."
Unison regional organiser Eddie Gabrielsen said the union had learnt late in negotiations that in addition to the 20% who would lose money, a further 2,000 staff would lose the equivalent of two-to-three weeks' pay every year.
'Magic wand'
Others would miss out via unsociable hours payments, he said, leading to 40%-50% of council staff have reduced pay he claimed.
Mr Gabrielsen said: "I can understand that they don't have a magic wand and can't wave away austerity but I think they can do a little bit more."
He claimed that council had 12,000 posts, not staff, and some of his members did more than one job at the local authority, so the union's remit went wider than the council's figures suggested.
He welcomed the two sides continuing discussions on 15 August.
A ballot of GMB members backed the change. Ucatt and Unite did not ballot its members.
Around 40% of council staff are not represented by a union.
In December last year, research by BBC Wales found the cost of settling equal pay claims by Welsh council workers had reached more than £75m.