Welsh language commissioner: 468 complaints to watchdog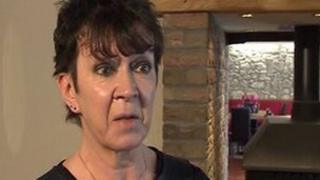 The first annual report by the Welsh language commissioner has been launched at the National Eisteddfod in Denbigh.
It shows that Meri Huws received 468 complaints in the past 12 months.
They relate to people saying their day-to-day use of Welsh had been affected or claims public bodies failed to implement their Welsh language schemes.
Ms Huws said her aim was to ensure the language is "mainstreamed" in all policy considerations by ministers.
The commissioner's role was established by legislation passed in 2011 which obliges public bodies and some private companies, such as utilities firms, to provide services in Welsh.
It follows the end of the Welsh Language Board in March 2012.
Ms Huws told Radio Wales: "If you look at all the policy decisions that are made in Wales, whether its by central government or local government - and they are difficult decisions - we need to make sure the Welsh language is a consideration, alongside issues such as sustainability and all the other issues.
"If the language is there from the beginning, it's easier, it's more effective and its more cost effective.
"If we can do that, we will have achieved a great deal.
She also referred to the results of the 2011 Census, which showed a fall in the number of places where over half the population can speak Welsh.
"The results of the 2011 Census are a clear sign of the need for us to be imaginative and to suggest strategic and radical policy options in considering the future of the Welsh language in our communities, our schools and our workplaces," said Ms Huws in her report.
Her report was launched during a question-and-answer session at the Eisteddfod.