Fog and geese help fight rural crime says NFU Mutual report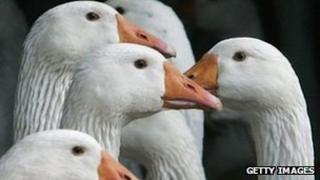 Installing fog machines to confuse intruders and keeping geese are among unusual security measures adopted in the fight against rural crime, says an insurance firm.
NFU Mutual's latest figures found rural crime had fallen in Wales by nearly one-fifth.
Losses in Wales fell by 17% from £2.3m in 2011 to £1.9m in 2012.
But quad bikes, livestock and diesel are still being targeted in Wales.
NFU Mutual said alongside conventional security precautions, more unusual anti-theft measures included:
Keeping geese to alert homeowners of trespassers
Housing louder and more aggressive animals such as llamas with other livestock
Installing fog machines to disorientate intruders
Retractable cattle grids to keep uninvited vehicles out.
The survey suggests most rural crime is planned rather than opportunist, the insurer said.
The figures, based on claims data, were released alongside its annual rural crime survey.
This includes claims for crimes against homes, farms, commercial premises and vehicles.
'Devastating impact'
Karen Yates, NFU Mutual agent in Llantrisant, Rhondda Cynon Taf, said: "As a mutual organisation owned by, and run for, our members we have a responsibility to work with country people to improve security and tackle crime.
"Even though rural crime has fallen, much more still needs to be done to thwart rural criminals and minimise the devastating impact of crime in the countryside.
"We're starting to see the benefits from communities working hard with the police and wider industry.
"However, people shouldn't become complacent, they need to make security a priority on their farms, businesses and homes."
'Watching us'
Diane Evans from the Towy Valley lost a small flock of pedigree Texel sheep, worth about £5,000.
"I was devastated because I'd bred them all and I knew them all individually," she told BBC Radio Wales.
"There must have been three or four people with them to help them to get them out on the road to load them.
"You could see tyre track marks on the side of the road but it was the fact that somebody had been watching us, watching that nobody was coming from the farm. It was all just very frightening at the time really."
Across the UK, losses fell 20% from £52.7m to an estimated £42.3m.
The national reduction in rural crime has been driven by a significant fall in tractor and quad bike thefts (down 32% and 17% respectively) which accounted for more than one third of all thefts by value.
Thefts of garden furniture, ornaments and stone have been identified in the survey as emerging trends over the last year.
The insurer said it believed some thefts were likely to be repeated within weeks as criminals return to plunder the replacements.
It also said the survey indicates prevention is better than cure, with branches believing locks, CCTV and tracker devices being more effective than a greater police presence or tougher sentences for criminals.