Commonwealth Games Queen's Baton Relay route revealed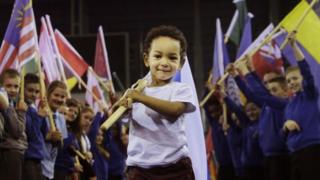 The route the Commonwealth Games' Queen's Baton Relay will take in Wales before it reaches Glasgow in 2014 has been unveiled.
Arriving at Cardiff Airport on Saturday, 24 May next year, the baton will visit events and celebrations in seven counties over seven days.
They are Blaenau Gwent, Rhondda Cynon Taf, Denbighshire, Carmarthenshire, Anglesey, Gwynedd and Pembrokeshire.
Organisers hope it will draw crowds like the 2012 Olympic torch relay.
Chris Jenkins, chief executive of the Commonwealth Games Council for Wales (CGCW), said it was important to galvanise support for Welsh athletes.
"We all witnessed the sheer number of people getting behind the London 2012 torch relay as it made its way through Wales ahead of the Olympic Games, and we're looking forward to seeing the Welsh support for our athletes at the Queen's Baton Relay events next year," he said.
"We're such a proud and passionate sporting nation and the seven days next summer, just two months out from the start of the Glasgow 2014 Games, will provide us with the chance to travel across Wales, engaging with communities, building excitement for the games and gathering support for the team along the way.
"The Commonwealth Games is the only opportunity that Wales gets to compete as a nation, the only chance that many athletes have to pull on a Welsh vest and because of that it holds such importance for us."
One of the events the baton will visit will be the Urdd Eisteddfod in Bala, Gwynedd, on the Bank Holiday Monday, 26 May. Its final stop in Wales will be in Denbighshire on Friday, 30 May.
John Griffiths, minister for culture and sport, said the baton relay would involve local communities.
"We are a nation who are very proud of our sporting achievements and the Commonwealth Games is a very important event which attracts worldwide interest," he said.
"I am looking forward to seeing the Queen's Baton Relay travelling through Wales which will involve many of our local communities.
"I am sure the event will generate a great deal of support and excitement and will help young people in particular to understand that sport can have so many wide ranging benefits. "
Royal message
Before it arrives in Wales, the baton will travel the world.
The 190,000km relay - far longer than the Olympic Torch relay - will travel to 71 nations and territories across the world in seven months before arriving in Scotland.
Since Wales hosted the first Queen's Baton Relay in 1958, the traditional opening of the Commonwealth Games has always been celebrated.
The baton, whose design has not yet been revealed, will leave from Buckingham Palace on 9 October.
It will carry a message from The Queen as head of the Commonwealth.
Glasgow is hosting the 2014 Commonwealth Games from 23 July to 3 August.