Charlotte Church's dad attacked 'in self defence', court hears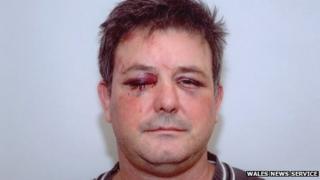 A man has been cleared of assaulting the stepfather of singer Charlotte Church, said to have been beaten up at a party after asking for cocaine.
James Church, 47, suffered facial injuries in an incident in Cardiff which left the star's mother Maria "screaming" and "hysterical".
Robert Moore, 46, of Cardiff, was accused of causing grievous bodily harm to Mr Church on New Year's Eve.
He said he was acting in self defence and was cleared at Cardiff Crown Court.
Mr Moore claimed he saw businessman Mr Church using cocaine at the party in the Potters Bar Pool Hall in Leckwith, Cardiff, and the singer's father later asked if people were "doing" the drug.
The two men later bumped into each other in the club toilets where the violence erupted.
Prosecutor Jeremy Jenkins told the court that Mr Church was struck on the head with a bottle causing him to fall to the ground.
"While on the floor he was kicked in the right eye and then continuously kicked in the face and stamped on," he added.
The court heard the singer's mother screamed in horror and became hysterical when she saw her battered husband minutes afterwards.
Mrs Church, 47, told the jury: "I had never seen such a smashed-up face. He was an absolute, complete and utter mess and badly injured.
"When I saw his face I absolutely screamed - I went hysterical. I've never experienced anything like that before."
'Gratuitous lie'
However, Mr Moore claimed he was acting in self-defence during a scuffle between the pair and that the injury to Mr Church's head could have been caused by the toilet door.
The defendant told the court: "He came in confrontationally asking for cocaine and I said we didn't do cocaine.
"He came towards me to 'do' me and I got in first. We both fell over and I fell on top of him and we were both chucking punches."
Mr Moore claimed Mr Church was drunk and that he had earlier seen him sniffing drugs in the toilet.
Prosecutor Mr Jenkins told the court that Mr Moore's claim about Mr Church asking for cocaine was a "gratuitous lie to blacken his character."
Mr Moore replied: "That's total nonsense. I didn't attack him. He attacked me."
The jury found him not guilty of causing grievous bodily harm with intent and inflicting grievous bodily harm.
Ms Church, 26, did not attend the trial.