Science 'great fun' says new chief adviser Prof Julie Williams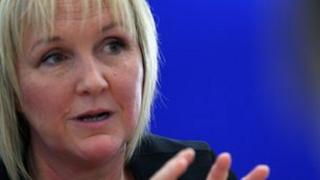 Children are being urged to see science as "great fun" by Wales' new chief scientific adviser.
Prof Julie Williams said encouraging youngsters was a key part of her new role for the Welsh government.
The Merthyr-born academic was appointed a CBE for her Alzheimer's research at the School of Medicine in Cardiff.
Welcoming the appointment, First Minister Carwyn Jones said the role of science in society and the economy was growing in importance.
The chief scientific adviser for Wales (CSAW) provides independent scientific advice to the first minister and his administration.
'Cutting edge'
Prof Williams, currently professor of Neuropsychological Genetics and Dean of Research at the School of Medicine at Cardiff, said she was honoured and delighted to be offered the role.
"Wales has some outstanding scientists working at the cutting-edge of research," she said.
"One aspect of my new role which is particularly close to my heart is the need to ensure every child in Wales knows the great opportunities which exist for them within the field of science and that science can be great fun.
"I am also very grateful to Cardiff University for allowing me to continue the research into the genetic causes of Alzheimer's disease with the excellent team we have in place."
First Minister Carwyn Jones said: "Professor Julie Williams is an outstanding research scientist and her contribution to Alzheimer's research is recognised world wide.
"I am delighted that one of our leading professors from a Welsh university will hold this position at a time when the role of science in society and the economy is growing in importance."
Prof Williams will begin her new job in September, on a three year secondment, working for three and a half days a week.
The role was previously filled by Prof John Harries who retired earlier this year and was responsible for developing the Science for Wales strategy.
Science Minister Edwina Hart said: "These are exciting times for science in Wales and Professor Williams will play a key role in co-ordinating and delivering the commitments in our Science for Wales strategy that includes the National Research Networks and Ser Cymru (Stars Wales).
"The £50m Ser Cymru flagship science initiative is designed to attract and select outstanding science professors from across the world to work in Wales with the aim of winning more competed for science research funding."