Stella and Sherlock nominated for Bafta Cymru awards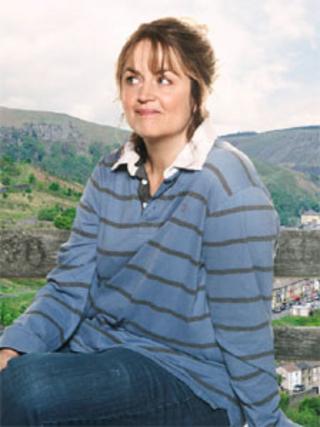 Actress Ruth Jones and her comedy series Stella have been nominated for a string of Bafta Cymru awards.
Hollywood star Michael Sheen is in the running for a best actor award for his role in The Passion which was filmed on the streets of Port Talbot.
Many of the other categories are dominated by programmes made by BBC Wales with Sherlock, the Indian Doctor and the Story of Wales all shortlisted.
The awards ceremony will take place in Cardiff on 29 September.
Ruth Jones is nominated for her lead role in Stella as well as a best writer award for penning the series, which is made in the south Wales valleys and aired on Sky 1.
The programme is up for 10 Bafta awards in total.
The crime drama Sherlock, starring Benedict Cumberbatch as the famous detective and Martin Freeman as Dr John Watson, receives four nods including best television drama.
Bafta Cymru director Allison Dowzell said: "This year we received a record of number of entries and according to our judges the quality of the nominations has been particularly high.
"We are excited to be able to bring together the very best representatives of the creative industries in Wales in order to recognise the time, energy, determination and hard work that goes into making and producing creative media, TV and film programmes here.
"We're sure to see some very worthy winners rewarded for their efforts on the evening. Once again we have had the loyal support from our sponsors and we're delighted to welcome new supporters to the event this year."
Teen drama
Elsewhere, ITV's Welsh current affairs series Y Byd ar Bedwar is shortlisted twice while its English news programme Wales Tonight is up against BBC Wales Today and S4C's Newyddion in the news category.
The Story of Wales is shortlisted for four awards including best factual series and best presenter for Huw Edwards.
Comedian Griff Rhys Jones is also nominated in the best presenter category for Britain's Lost Routes with Griff Rhys Jones.
In the best actor category, Mark Lewis Jones, for Stella, and Rhodri Meilir for S4C's Gwlad yr Astra Gwyn are up against Michael Sheen.
Mali Harries, The Indian Doctor, and Sara Lloyd-Gregory for S4C's Alys join Ruth Jones as best actress nominees.
The BBC network drama The Indian Doctor is nominated five times in total including best television drama.
S4C's Alys is up for three awards, while producer and screenwriter Russell T Davies' new teen drama Wizards vs Aliens, produced by BBC Cymru Wales for CBBC, receives three nominations.
Meanwhile, the composer Karl Jenkins has been nominated in the original music category for his work on the Story of Wales.
Doctor Who is in line for a Bafta for sound and for the editing of last year's Christmas episode called The Snowman.
Barry John: The King is up for an award in the single documentary category.