Listeners return to BBC Wales radio in both languages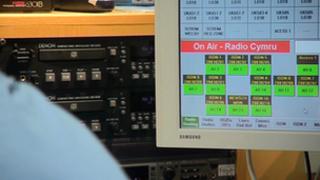 BBC Radio Wales has recorded its highest listening figures for six years - while BBC Radio Cymru has seen 22,000 listeners return.
On average, Radio Wales is reaching 499,000 people a week, while Radio Cymru was being listened to by 141,000 people in the last quarter of the year.
The latest figures are from the body which monitors radio listening across the UK, Radio Joint Audience Research.
The results have been welcomed by both BBC Wales stations.
"I'm delighted with these results, which show that the significant changes we made to our schedule last autumn have clearly struck a chord with our listeners," said the editor of Radio Wales, Steve Austins.
"They're also a tribute to the hard working and talented Radio Wales team who constantly strive to provide the highest quality journalism, sport, culture and factual programmes to our listeners.
"One of our major ambitions is to tell new stories about Wales and through these stories target new listeners to build on the successes that today's figures reflect.
"With a new week-night and Saturday line-up on the horizon I'm keen to build on this loyalty and make sure that our programmes attract even more listeners for even longer."
The figures, which cover the second quarter of 2013, up to June, have also been warmly welcomed by the Welsh language service.
The increase in its listening figures marks one of its high points in the last two years - and comes after figures for the first part of the year had slumped to their lowest.
Reversing fortunes
Betsan Powys, who has recently taken up her new role as programme editor for Radio Cymru, said she welcomed the increase in listenership - but also recognised the challenges faced by the station.
"The past few months have been very difficult for the Radio Cymru team and these figures are a tribute to their hard work and resilience," she said.
"However, many challenges remain not least the social and linguistic changes outlined in the latest census.
"I'm pleased that so many of our listeners, and those who no longer listen, have engaged with Sgwrs Radio Cymru, which is inviting listeners to share their views on all aspects of the station and I'm looking forward to getting in to the detail of the findings.
"My ambition is to ensure Radio Cymru continues to offer a successful and vibrant service for years to come, and today's figures are a small but encouraging step in the right direction."
Across the UK, BBC Radio 2 and Radio 4 have pulled in record numbers of listeners, according to the newest figures from Rajar.
An average weekly audience of about 15.44 million tuned into Radio 2 while Radio 4's audience rose to 10.97 million a week.