Operation Pallial: Suspect John Allen remanded in custody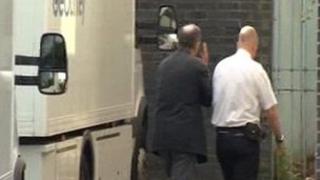 A 72-year-old man charged with 32 serious sexual offences relating to allegations of historic child abuse in north Wales has been remanded in custody.
John Allen, of Ipswich, Suffolk, was head of the Bryn Alyn Community which ran children's homes in north Wales.
He appeared before magistrates in Mold.
The charges include 22 indecent assaults and one offence of gross indecency, alleged to have taken place between 1968 and 1989.
He was first arrested in April and was re-arrested on Wednesday when he answered bail in north Wales.
Mr Allen will appear at Caernarfon Crown Court in a week's time.
After answering bail, Mr Allen was interviewed further by officers from Operation Pallial - the investigation into allegations of historic abuse at care homes in north Wales - before being charged on Wednesday.
Operation Pallial confirmed they were the first charges to be brought under the investigation.
The offences are alleged to have taken place between 1968 and 1989 against 15 boys and girls aged between seven and 15.
Operation Pallial is led by Keith Bristow, director general of the National Crime Agency, which is replacing the Serious Organised Crime Agency.
He said 187 people were now speaking to investigators about alleged abuse.
Mr Allen is one of four men arrested.
The others remain on police bail while investigations continue.