SAS soldier deaths: Coroner's 'right to life' query backed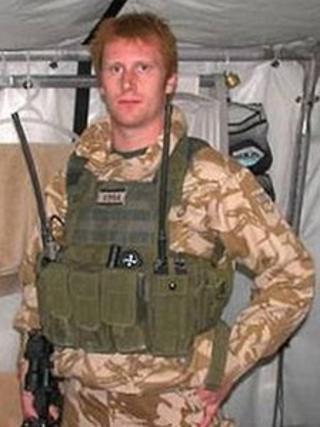 The lawyer for the family of a Royal Marine who died on a special forces selection course in the Brecon Beacons says a coroner is right to raise similar deaths under human rights law.
Benjamin Poole, 25, from Jersey, died of natural causes in July 2008. His inquest heard it had been a hot day.
A third soldier has now died after SAS selection training in hot weather in the Brecon Beacons on 13 July.
Solicitor Jason Squire said: "We were assured that lessons would be learned."
Cpl James Dunsby, 31, has been named as the third soldier who died from injuries sustained after collapsing during SAS selection training in the Brecon Beacons amid high temperatures nearly three weeks ago.
His death on Tuesday follows those of L/Cpl Craig Roberts, 24, of Penrhyn Bay, Conwy, and Edward Maher, 31.
The men were on a 40-mile (64km) hike on when temperatures reached 29.5C (85F).
The Defence Secretary Philip Hammond has announced a full inquiry.
The soldiers had taken part in a four-week trial for the Territorial Army's SAS reservists ending in the hike over the Brecon Beacons in Powys.
They had been among six men rescued from the mountain.
An inquest in Brecon, which was opened and adjourned last week, heard the cause of the deaths of L/Cpl Roberts and Mr Maher remained "unascertained".
Powys coroner Louise Hunt has warned that the Ministry of Defence (MoD) could face investigation under the Human Rights Act.
She said "right to life" would play an important part in the inquest.
A witness on the day described coming across two soldiers "clearly in distress" who pleaded with them for drinking water.
'Considerable coincidence'
Benjamin Poole's inquest in January 2011 heard he had been carrying a 20kg (45lbs) rucksack and a rifle when he collapsed just before the final checkpoint in the Brecon Beacons in July 2008.
The inquest heard that Mr Poole had volunteered for the "arduous" selection process and was in the top 10% of 200 recruits.
A post mortem examination failed to pinpoint a cause of death, but later medical tests showed Mr Poole, based in Hamworthy Barracks in Dorset, suffered heart failure.
Mr Squire, the Poole family's solicitor, said: "It was a very hot day when Ben died and there were issues concerning heat exhaustion and the on-take of fluid, similar issues I would imagine to the cases we're now looking at.
"It would be a considerable coincidence if all three of [the recent deaths] were natural causes, so I think the coroner is right to flag up those issues at this stage.
"The MoD should indeed be looking at human rights violations, quite possibly.
"It's a matter for the courts, I suppose, to decide whether those lessons have been learned."
Mr Squire said that Mr Poole was fitted with a GPS device at the time of the exercise in 2008. It is not known whether the reservists involved in the July 2013 incident had similar devices.
The Brecon Beacons is home to the Infantry Battle School and makes up one of Britain's largest military training areas.