Porthcawl jewellery robbery puts two women in hospital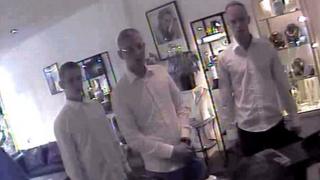 Two women jewellers are recovering in hospital after an armed robbery in which three men used a knockout spray.
The Gold Centre in Porthcawl was targeted at 10:10 BST on Wednesday.
Two women, aged 57 and 68, are "stable" and recovering in hospital after being sprayed with what police called an "aerosol incapacitant" and blindfolded in a 20-minute ordeal.
Anyone with information is asked to call South Wales Police on 101 or Crimestoppers on 0800 555111.
Det Ch Insp Jason Redrup said the three men were white, in their early to late 20s and were all smartly dressed.
He said one had dark hair, while the other two had lighter hair and were wearing Jewish skull caps.
"They sprayed both women with the incapacitant spray and tied them up and blindfolded them," he said.
"They then proceeded to steal a significant amount of jewellery."
Broken English
He added that the attack lasted about 20 minutes before the raiders escaped on foot from John Street into Mary Street, being last seen near the Somerfield supermarket.
Det Ch Insp Redrup said the men - who spoke in a foreign language and used broken English - are not believed to be locally based.
He added: "From the actions of the men involved it appears it was a professional robbery.
"They may have done this before and may do in the future, and we're appealing for anyone with information to contact us."
With patrols stepped up in the area, the detective added: "Porthcawl is a very safe town and incidents like this are extremely rare.
"We are doing all we can to catch those responsible."