House sale rise biggest since crisis, says Peter Alan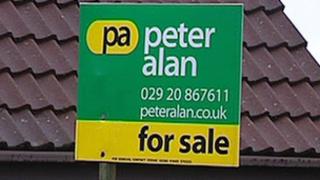 The largest estate agent in south Wales has seen its biggest increase in house sales since the financial crisis.
Peter Alan, owned by the Principality Building Society, reported a 10% rise over the past six months, compared with the same period last year.
The Principality also helped over 800 first time buyers across England and Wales get onto the property ladder.
Chief executive Graeme Yorston said it suggested the economy was recovering but its sustainability was an issue.
In January, the Principality set out plans to increase the total value of mortgage lending by 50% over the next five years.
In the following six months, it boosted mortgage lending by 38%.
But the level of repayments on existing mortgages also increased, which meant that net lending rose by 5%.
'Degree of restoration'
The Principality, which is the sixth largest building society in the UK, said it aimed to increase this amount by 9% a year for the next five years.
Mr Yorston said the figures posted by the society in the six months to 30 June suggested the UK economy was "experiencing a degree of restoration" following the financial crisis of recent years.
"House prices are returning to positive levels, unemployment is better than expected and GDP figures are strengthening but I am sympathetic to the concerns expressed by many commentators regarding the sustainability of the economic recovery," he said.
"The current low interest rate environment, coupled with government schemes such as the Funding for Lending Scheme [which aims to incentivise banks and building societies to increase their lending] have boosted the supply side of the market and created increased disposable income for households but it is likely that this will come under pressure in the long term."
Speaking on BBC Radio Wales, he said he was very pleased with the company's results, particularly as it had set out to grow its lending over the next few years.
"We're definitely lending more," added Mr Yorston.
"It's being supported by the government schemes, principally the Funding for Lending Scheme which is making access to funding much, much cheaper for lending institutions.
"It's without doubt getting the housing market moving and that was the government's clear intention. It is difficult in some places."
The Principality is the biggest lender based in Wales with 53 branches.