Charity sees 30% rise in rape and sexual assault reports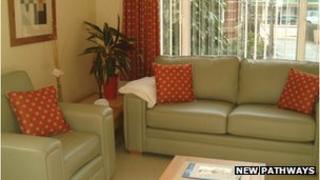 The number of rapes and sexual assaults reported to a specialist support charity has risen by 30% in a year.
New Pathways said it was dealing with record numbers of referrals to its centres across south and mid Wales, up from 769 to 1,007 in 12 months.
The figures cover men, women and children, with some as young as three reporting abuse.
Gwent chief constable Jeff Farrar said more offenders were being prosecuted as a result.
The Merthyr Tydfil-based charity said the numbers were all current cases and did not take into account cases of historic abuse.
They had around 1,300 of those during the same period.
Chief executive Jackie Stamp was one of the original volunteers at the charity when it began in Merthyr 20 years ago.
During her time the organisation has moved into Swansea, Bridgend, Carmarthen, Risca, Cardiff and Newport, and its subsidiary charity Mid Wales Rape Support Centre opened in Aberystwyth a few weeks ago.
She said: "The charity has grown so much over the years.
"Although this is a reflection on the sheer size of the problem we are facing, it means that many more people are accessing help to move on after rape or sexual abuse."
"Despite the high number of people needing our help, funding for this work is quite precarious, particularly in the current economic climate."
"This is a very difficult area of work and we are fortunate to have a very dedicated team of staff and volunteers who are passionate about our work."
The charity's specialised units known as sexual assault referral centres (SARC) incorporate examination rooms where forensic evidence and interviews can be gathered, meaning victims can avoid visiting a police station.
Gwent Police Chief Constable Jeff Farrar, who leads the four Welsh forces on protecting vulnerable people, said: "New Pathways played an instrumental part in the establishment of Gwent Police specialist Onyx Unit which investigates rape and sexual abuse.
"The support provided by New Pathways has made a real difference to victims' lives and through joint working with Gwent Police more victims are being supported and more offenders are being prosecuted."