Rail electrification: North Wales councils aim to show benefits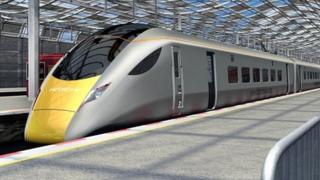 The case for upgrading the north Wales rail network, including electrification, will be pushed by a study launched by local councils.
The North Wales regional leadership board, representing six local authorities, says improving transport infrastructure is key to the long term growth of the region's economy.
Train services between Swansea and London are set be electrified by 2018.
Welsh ministers and Welsh Secretary David Jones back electrification.
The board said future rail investment should include the doubling of the railway line between Wrexham and Chester as well as improved links from the north Wales coast to south Wales and the West Midlands.
It said the study aimed to show the economic benefits of improving:
the Holyhead - Crewe line
connectivity between north Wales and Manchester, Liverpool, south Wales and Birmingham via Chester
the Wrexham - Liverpool line
Board chairman Dilwyn Roberts, a Conwy councillor, said: "We believe such a study will help the Welsh government, the Wales Office and the many AMs and MPs who support rail modernisation and electrification in north Wales to make a strong case to the Department for Transport and the Treasury for the very substantial investment that will be required."
The study will be commissioned and published by the North Wales Economic Ambition Board, formed by the six councils - Gwynedd, Anglesey, Conwy, Denbighshire, Flintshire and Wrexham.
Rail electrification in south Wales and the prospect of longer, faster trains, was announced last summer by the Department of Transport.
Work to electrifiy the south Wales main line is expected to start sometime between 2014 and 2019.
A further £350m investment will also see lines from Cardiff to the south Wales valleys electrified.