Cardiff's Millennium Stadium final tier unlikely to be completed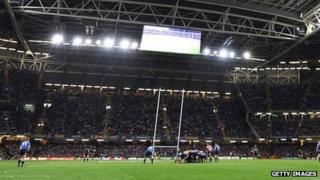 Millennium Stadium chiefs have all but ruled out rebuilding its two-tier north stand to complete three tiers all around the ground.
Sources have told BBC Wales the cost of the work would not be recouped by what would only be a limited increase to the stadium's 74,500 capacity.
It is the only surviving part of the old National Stadium and backs on to the Cardiff Arms Park club ground.
Meanwhile, an artificial pitch could be installed as early as next summer.
Built in 1999, the Millennium Stadium's bowl shape was broken by the retention of one stand from the previous stadium.
It had been thought the stand would have to be demolished and rebuilt because it is suffering from so-called 'concrete cancer'.
But stadium bosses have said the structure is checked every year and is showing no signs of deterioration.
Pitch plans
But while the stands are unlikely to be altered, the current grass playing surface - which is installed on removable pallets - could be replaced by an artificial pitch.
The idea has been discussed at Welsh Rugby Union board level and would see an eight to 10 week window set aside for installation, possibly as early as next summer.
However, under the regulations of Uefa, European football's governing body, this would prevent the stadium from hosting a major European football final such as the Champions League or Europa League.
The regulations state the games must be played on a natural surface.
WRU bosses have been discussing the plans in detail with the International Rugby Board and organisers of the 2015 Rugby World Cup, which will stage eight games in Cardiff.
There have been assessments carried out about how an artificial surface would affect players and how markings and sponsors logos could be painted on.
If the plan goes ahead, it would be the first major rugby Test match stadium to adopt an artificial surface.
The Cardiff Blues regional rugby team are in the process of installing an artificial pitch next door at their Cardiff Arms Park home.