Flood warning in north Wales due to heavy rain, say forecasters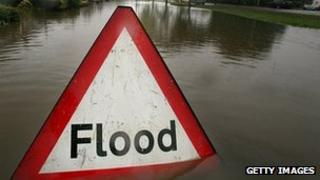 There is a warning of possible flooding in north Wales on Thursday due to isolated heavy showers.
More than an inch (30mm) of rain could fall within an hour across the region, warns the Met Office.
There are also two flood alerts in place for Wye Estuary in Monmouthshire and the Usk Estuary in south Wales.
Natural Resources Wales said the heavy rain could cause hazardous driving conditions.
They warn it could cause flooding as the ground is hard following the prolonged dry spell meaning it will run off more quickly into drainage systems.
BBC Wales weather presenter Behnaz Akhgar also warned of thunderstorms but said the rain should ease later in the day.
The Met Office yellow alert is issued to give people notice that there may be disruptive storms causing localised flooding.
The maximum temperature today is expected to be around 24C (75F).
The yellow alert is in place until midnight.