ITV Cymru Wales news shake-up under new Ofcom licence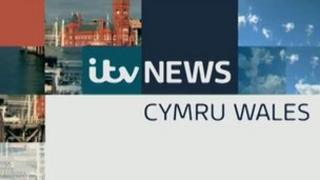 Broadcast regulator Ofcom has set out the terms that will apply to ITV Cymru Wales' programming under its new broadcasting licence from 2014.
Evening news programme ITV News Cymru Wales will still run for 30 minutes despite some ITV regions in England planning to cut the length by a third.
The late-night bulletin will last up to 15 minutes but the lunchtime and weekend bulletins will be shortened.
ITV Wales views the changes as a "redistribution" of programme minutes.
The changes effectively see the less popular day time and weekend bulletins cut with the minutes being used to extend the late evening slot, which attracts a significantly higher audience.
In a change to the channel's administration, the ITV Cymru Wales licence will also become a distinct document.
Due to the historical distribution of licences it is currently shared between the Wales and ITV West broadcast regions, although both operations are run as separate entities.
UK Culture Secretary Maria Miller announced last year that she would not oppose the renewal of ITV's licence to broadcast for another 10 years, which prompted Ofcom to begin talks with the channel over its public service programming commitments.
In a statement ITV said: "We welcome Ofcom's support for our regional news proposals, which will keep strong, sustainable local programming at the heart of our schedule for at least the next decade.
"Today's announcement also marks another important step towards the renewal of our licence for a full 10 years following the decision by the secretary of state last November."