Weather change from heat to rain brings thunder and lightning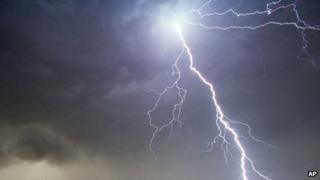 Thunderstorms and heavy rain seen overnight in parts of Wales have largely eased as the weather system moves across to England.
The prolonged dry spell came to an end in the early hours, with forecasters warning of a risk of flash floods as rain fell on baked ground.
Forecasters said there was still a risk of isolated showers and lightning strikes in north east Wales.
It is likely to remain humid but with lower temperatures than on Monday.
On Monday, the Met Office issued a rain warning for England, Wales and southern Scotland.
The yellow alert, which covered most of Wales apart from the far west and Pembrokeshire, is issued to give people notice that there may be disruptive storms.
Natural Resources Wales said heavy rain was likely to cause roads to flood and drains, ditches and small streams to overflow.
In a statement, it said: "Those who are camping or caravanning should also keep an eye on the weather conditions and listen to advice from the site owners."
BBC Wales weather presenter Behnaz Akhgar said: "The worst of it is in England now. We had some thunderstorms overnight and lightning strikes over parts of south east Wales.
"The only place we could continue to have lightning strikes is north east Wales in the Wrexham area."
She said the risk of flash flooding was only likely in east or north east Wales where there could be some downpours.
"The trend is for it to ease off by this afternoon."
Typically average temperatures in the shade on Tuesday should be around 24C (75F) compared to around 28C (82F) on Monday.
The showers should disappear by later afternoon on Tuesday, leading to a settled period once again, she said.
The UK has had its first prolonged heatwave since 2006 - though Saturday was the first day in seven when temperatures did not exceed 30C anywhere in the country.
However, it has not matched a heatwave in the summer of 1976, when temperatures above 32C (89.6) were recorded on 15 consecutive days.