Heatwave: 100 people in Wales could have died so far, according to study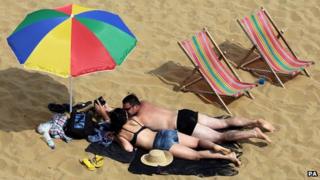 Up to 100 people may have died in Wales as a result of the heatwave so far, according to a study.
A leading public health research centre looked at the number of possible extra deaths due to the hot weather.
The London School of Hygiene and Tropical Medicine (LSHTM) estimated 60 to 100 mostly elderly people may have died from 6-14 July.
Meanwhile, the Welsh Ambulance Service is calling on members of the public to take extra care.
Ben Armstrong, a professor in epidemiological statistics at LSHTM, said the deaths were likely to have been "overwhelmingly among the elderly, especially those over 75".
He said some of the deaths may have been "among people who would have died just a few weeks later if there had been no heatwave".
He also estimated that between 540 and 760 people may have died in England in the same period due to the weather.
The figures were produced using Met Office temperature data, which was compared to studies conducted after previous heatwaves.
The estimates are based on the assumption the risk of death increases for every degree above a particular maximum threshold in individual areas.
Meanwhile, the Welsh Ambulance Service said it had seen a spike in calls last weekend. Across Wales there were over 2,000 calls, a 9% increase above what was expected.
Andrew Jenkins, deputy director of medical and clinical services, said: "It is fair to say that the weather has affected all the demand across Wales.
"We would really appreciate if people would be considerate when dialling 999, and only do so in life-threatening situations.
"NHS Direct Wales, GP out-of-hours and pharmacies are all available for help and support with less serious injuries and illnesses."
A hospital specialising in injuries that require plastic surgery said it had seen a spate of trauma cases linked to the recent hot weather.
The Welsh Centre for Burns and Plastic Surgery, at Morriston Hospital in Swansea, has dealt with 53 cases requiring plastic surgery in a week - double the normal rate.
Dean Boyce, consultant plastic surgeon, said: "Unfortunately we are treating a patient with a very severe foot injury, and this is not the first time this has happened.
"We have seen children who have lost a foot after falling off a parent's lap riding a ride-on mower."
He said DIY was popular in the hot weather and there had been "a number of patients losing fingers with circular saws".
"A patient also cut their finger off with a hedge clipper," he said.
"Another patient lost the top of a thumb shooting an air rifle, and another lost a finger after it got caught in a deck chair."
The centre has treated patients for sunburn - and overheated dogs have caused injuries as well.
Tom Potokar, consultant burns and plastic surgeon, said: "People may give their pet a hug and the dog may snap because it is too hot and the resulting bites can be quite serious.
"So you need to be sensitive of how the heat can affect dogs."
The Wales Air Ambulance (WAA) said the number of missions flown during the first two weeks of July had almost doubled compared to the same period last year.
WAA paramedic and operations manager Jason Williams said: "We've seen a huge increase in incidents that are outdoors, including beaches, mountains and caravan parks."
He added: "The summer months are traditionally the busiest season for us, but the sunshine this month has definitely sent our missions soaring compared to last year."
Figures released by Hywel Dda Health Board, which serves Carmarthenshire, Ceredigion and Pembrokeshire, show extra pressure is also being put on A&E services.
Health bosses said there was a big jump in new attendances at A&E during the first half of July compared with the same period in the previous two years.