Water at Llyn Padarn, Llanberis, damaged by sewage effluent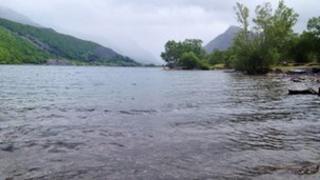 Nutrients from sewage effluent damaged the water quality at a popular Snowdonia lake, a new report has confirmed.
A Natural Resources Wales (NRW) investigation looked into the incident, which happened at Llyn Padarn in Llanberis in 2009.
The report said the nutrients also caused a toxic algal bloom which closed the lake for weeks at a time.
Stricter limits have since been imposed on a local sewage works.
The algal bloom can cause illness in humans and animals.
Dwr Cymru/Welsh Water has previously said it planned to change the area's sewerage network to avoid the lake, which hosts a rare fish population.
The report said that since stricter limits were put in place at the sewage works the situation had "stabilised".
The investigation followed a complaint received by the then regulator, Environment Agency Wales, which became part of NRW.
Tim Jones, of NRW, said: "This confirms what previous reports found - that the sewage did cause damage to the lake in 2009 and caused the algal bloom.
"What is good to hear though is that the regulatory measures that tightened the sewage treatment work's permit - combined with other work by Dwr Cymru Welsh Water to improve the local sewage network - appear to have been effective."
Under Dwr Cymru's proposed changes all sewage would be piped away from Llanberis to another treatment plant below the lake.
Despite the changes the algal bloom could still reappear as it is encouraged by weather conditions and the fact some nutrients were still getting into the lake, said Natural Resources Wales.
Details of the investigation were presented on Friday to the Llyn Padarn Forum, which is made up of businesses, councillors, anglers and others with interest in the lake.
The algal bloom closed the lake for certain times in 2009 hitting local businesses in the Llanberis area.
Last year a local angling club said it was taking legal steps to prevent what it called an environmental disaster at the lake.
Nearby homeowners and businesses are also being asked to stop using traditional household cleaners to help prevent the return of the toxic algae.
A breeding programme has been set up in a bid to protect the lake's rare Arctic charr population, which can only be found in a few cold, deep lakes in north Wales.