Glyndwr University opens Leonard Goldstein library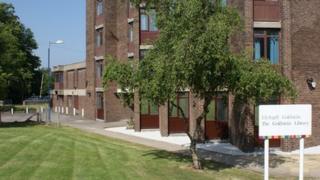 A book collection from an American academic forced to flee to East Germany in the 1960s has become a new reference library in Wrexham.
A former hall of residence at Glyndwr University has been converted to accommodate the late Leonard Goldstein's 13,000 books.
A decorated US soldier, he was one of the first to enter Nagasaki after the atomic bomb was dropped in Japan and his photos are in the collection.
The library opens on Friday.
The books include works on literature, social and political history, photography, architecture, crime fiction, theology and philosophy.
His left-wing political beliefs ultimately forced him out of his homeland when his opinions saw him blacklisted at the height of the McCarthy era witch-hunts.
After 20 years as professor of English literature at Potsdam University in the former East Germany, he retired to London in 1987, where he lived with his wife until his death last year.
And according to Paul Jeorrett, head of library and student services at Glyndwr University, the assortment of items they have received are as varied as the life of the man himself.
"In addition to this wonderful collection of books the library is enhanced by such things as Leonard's own notes on tissue paper glued into the pages of many of the texts," said Mr Jeorrett.
"There are also woodcuts and engravings, bookmarks, postcards and memorabilia which he and his wife Marilou collected."
Prof Goldstein opted to leave his library to Glyndwr University after meeting with vice-chancellor Prof Michael Scott.
"It was an honour to have met Leonard Goldstein who was a scholar of great distinction and a man of immense courage," he said.
"That he saw fit to leave his library to Glyndwr University was testimony to his faith and confidence in a new university which has a social justice policy of creating a university for all.
"At the opening this week I'll have mixed emotions of pride for the university, gratitude to Prof Goldstein but sadness at the passing of such a great man."
The library will be officially unveiled by another of Prof Goldstein's friends, fellow Shakespearean scholar Prof John Drakakis, a fellow of Glyndwr University.