River Ystwyth pollution from Pontrhydygroes mine cut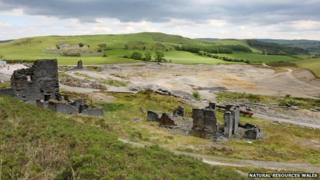 The amount of harmful chemicals that have been leaking into a Ceredigion river from a disused mine for more than 100 years has been cut by 50%.
Frongoch mine, near Pontrhydygroes, was once one of the most productive lead and zinc mines in Wales, employing hundreds of people.
But since January Natural Resources Wales (NRW) has been tackling the legacy left by the mine.
It now plans a wetland area which will purify water and cut pollution further.
The first phase of the work to clean up the water from Frongoch mine involved building a surface drain around the mine to direct water to a new, lined pond.
This has reduced the amount of water that flows through the contaminated mine waste and controlled the amount leaving the site.
Tim Jones of NRW said: "The first phase of this important work has been completed and it is showing benefits already.
"The signs are very encouraging - water quality downstream of the mine has got a lot better since the work was carried out.
Purify
"The River Ystwyth is very important for the area as it not only supports a rich variety of wildlife, but also draws anglers and tourists to the area."
In the future NRW hopes to be given planning permission, with agreement from the landowner in the area, for the second phase of the clean-up over the next year.
This will involve capping the mine waste and creating a new wetland area to further purify the water flowing from the site.
NRW has also been working on the old Cwm Rheidol mine, near Aberystwyth, that has historically discharged large amounts of zinc and other metals, which can harm fish into the River Rheidol.