Nicole Scherzinger's birthday cake made by Jayne Nantel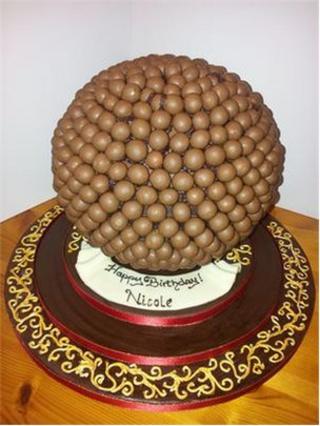 Swansea cake maker Jayne Nantel is used to baking special creations but admits she was a little nervous when asked to bake a birthday surprise for X Factor judge Nicole Scherzinger.
The ITV talent show's producers got in touch after seeing some of Mrs Nantel's creations on her business website.
They wanted a cake delivered in time for the latest round of auditions in Cardiff and the singer's birthday.
But it was a "bumpy ride" along the M4 that had Mrs Nantel most worried.
For the cake was shaped like a giant sphere of hardened chocolate surrounding sponge and fudge icing and covered in about 600 Maltesers.
Mrs Nantel could not afford anything going wrong at the last minute as the cake was later filmed being presented to Ms Scherzinger.
So she carefully loaded into her vehicle and made the journey to Cardiff for the handover.
Without a hitch
"The road was bumpy passing Junction 33 so I was a little nervous," she said.
Even staff at the hotel where the cake was delivered did not want to risk anything going wrong and asked that she deliver it to their kitchens.
The eventual birthday presentation ceremony went without a hitch and is due to be seen when the next series of The X Factor is screened on ITV later in the year.
"The cake is famous but I'm not," said Mrs Nantel, who is more used to baking wedding cakes than a 12 inch ball of sponge and chocolate.