UKIP MEP John Bufton's Welsh anti-devolution party idea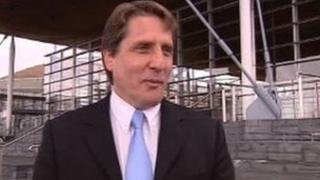 Wales' UKIP MEP has floated the idea of an anti-devolution party after disagreeing with his leader Nigel Farage over the Welsh assembly.
John Bufton, who is standing down as an MEP next year, said Mr Farage was "relaxed" about devolution but he was "totally opposed" to it.
Mr Bufton said many in Wales objected to the assembly and perhaps there should be a party to represent them.
He told BBC Radio Wales the UK needed fewer politicians, not more of them.
Mr Bufton, a former Powys county councillor, pledged his loyalty to UKIP until he stepped down as an MEP but refused to say whether he would support the party in the long term.
Speaking on Sunday Supplement on BBC Radio Wales, he said UKIP's current policy was to abolish assembly members and allow MPs to come "back to Wales then one week a month to do the work of the assembly".
"I'm one of the old guard I've always been opposed to the assembly and still am," Mr Bufton said.
"What Nigel Farage, our leader, has come out and said in an interview in the last few days is that he's relaxed about devolution, policing and new fiscal powers. Well, I'm totally opposed to that.
"I personally believe that we don't need to be doing this. We need to be different from the other parties. We're basically going to be the same as those so there'll be no difference at all."
'It's madness'
He added: "There are a lot of people out there in Wales who are still very much opposed to the Welsh assembly and there needs to be, perhaps, a party to represent them.
"It's up to the members and the leadership to decide which way we go with this, but if they take Nigel's lead on this then there will be a vacuum, there will be a vacancy and my view is if we have this vacancy there is room for another party.
"It's still very early to say which way things are happening in Wales and what I decide to do, but people who know me well have known that I've campaigned against the assembly from day one and I believe we still have to have an opposition.
"It's madness to turn around and throw the towel in and say: 'Yes, let them get on with it.'"
Mr Bufton fears the Welsh assembly will ultimately lead to Wales' independence and the break-up of the UK.
He is also opposed to an English parliament.
"We've had a debate in the party for some time regarding an English parliament, again this is Plaid Cymru's policy, and I am again opposed to that," he said.
"I believe the taxpayer is paying far too much money for politicians. We need a lot less and not a lot more and if we have and English parliament as well that's another tier of politicians."
Mr Bufton said he intended to complete his term as a UKIP MEP, adding that "what happens in the future is another matter".
Mr Farage said in the interview with Wales Online: "I am relaxed about devolution. I am relaxed about a federal future for the UK."