Powys mobile library service 'under review'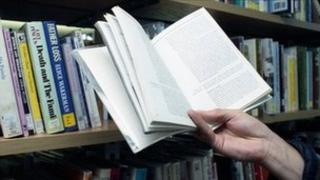 Mobile library services in rural parts of Wales are under a review which could see them cut.
Powys council wants to "improve" the scheme and wants users to fill out a questionnaire in order to gather feedback.
There are four mobile libraries visiting mainly rural areas every week, making 440 stops across the county.
A council spokesman said it was "too early say" if mobile units would be cut.
"It might be the case that this stays but there are fewer stops," he added.
Graham Brown, cabinet member responsible for libraries, said: "There is a high level of satisfaction with our mobile library service but usage is low, with only one or two people at many stops.
"We would like to hear your views and ideas to help improve the current situation with our mobile library service.
He added: "We will use your feedback to help us deliver a more cost effective service, tailored to the needs of the more rural communities in Powys."
The council has made questionnaires available from libraries. The closing date for responses is Wednesday 31 July.