Pre-surgery weight courses for obese patients criticised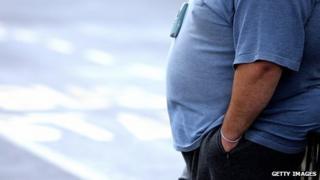 A health board has been criticised for wasting money by insisting that severely overweight patients have to go on weight management courses before undergoing non-urgent surgery.
The National Obesity Forum said the policy is expensive and could yield few benefits.
Smokers will also need to complete a course on stopping.
Cardiff and Vale University Health Board said improving weight before an operation gives a better outcome.
The board approved its "optimising outcomes" recommendations this week.
Under the new policy, anyone who wants elective surgery with a body-mass index (BMI) above 40 must have been "offered, accepted and completed weight management support" before being added to the waiting list.
Drop out rate
The health board has set out a list of those who will be excused the weight courses, including those who are referred for bariatric surgery, to insert stomach bands for weight loss.
Other people excluded are those who need emergency surgery, cancer treatment, and those with weight-related hormone problems.
Tam Fry, the spokesman for the National Obesity Forum, said the policy had not been thought through.
"In the end, I think it is just wasting money because, of course, these courses are going to cost the NHS as well.
"We don't know what the course is and whether, or how successful they will be.
"Then, during the course, the drop out rate may be quite high and you've wasted that money as well. Why bother to go through this, in my opinion."
Dr Sharon Hopkins, director of public health at the health board, said the policy was about supporting patients to get better outcomes from surgery.
"We are working with them on things that we know affect those outcomes," she said.
"For example, if you had high blood pressure we would ask you to go on a course of blood pressure tablets, we might ask you to go on - if you are stressed, stress-management or whatever, to take down that blood pressure.
"Patients would be quite happy to do that, because people understand very well that high blood pressure is not a good thing to have.
"In the same way, if you smoke, if you manage to stop smoking - even for up to eight weeks or even up to a couple of weeks before your surgery, that means you're likely to have a better outcome.
'Delaying the inevitable'
"Absolutely the same with weight management. Anything you can do to help you have a better weight prior to any surgery gives you a better outcome."
Bu Mr Fry said they would get better results by tackling weight loss issues far more radically.
"What these patients clearly need is bariatric surgery, which will be up to 40-50%. You are really just putting off the inevitable."
Bariatric surgery involves an operation to make the stomach smaller, often using a so-called gastric band, which radically reduces the amount of food a person can eat.
"Our advice is that they should accept that the patient is extremely obese, act promptly now and that will start to save volumes of money for the NHS in the future," argued Mr Fry.
"What you are really doing is putting a three-month barrier in their way - what is the purpose of that?
"Give them the surgery now, have it done and dusted, and they and the NHS will benefit in the long run."