Wrexham's Garden Village marks 100th anniversary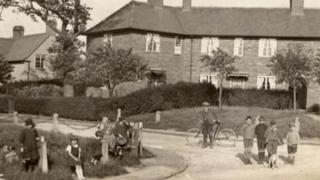 A village created to house a Wrexham colliery's miners and their families is celebrating its 100th anniversary.
An exhibition of old photos has opened in Garden Village as residents host events to mark the centenary.
Local history enthusiast and councillor Andy Williams said there had been hopes to create a village for about 3,000 colliery workers and families in 1913.
But only 240 out of a planned 1,000 homes were built before World War I thwarted plans.
It has been hoped to build a community like the famous Victorian village of Port Sunlight which housed factory workers in Wirral, relocating people from slums to improve their health and prospects.
But Mr Williams said no further money could be found for the ambitious social housing project after the war so parcels of land at Garden Village were sold to other developers.
History shows a housing society was set up in 1913 called Wrexham Tenants Limited to build affordable housing for 3,000 expected to work at businesses like the former Gresford Colliery.
The pit became synonymous with a disaster which led to the deaths of over 260 miners in 1934.
The original plan for Garden Village had included a village institute, churches, a school and recreation grounds with over 1,000 homes on 81 hectares (200 acres) of land.
In the first year, over 40 properties were completed at Acton Gate, Chester Road and Cunliffe Walk.
While plans to create a village of uniform buildings were never realised, Mr Williams says the area still developed a sense of community.
Local groups are hosting a series of events to mark the anniversary which culminates in a parade around the community and a fete on Saturday 13 July from 13:00 BST.
And a book of residents' memories and old photos has been produced with a free copy for the families of local children.
Profits from sales are due to be ploughed back into community improvements said Mr Williams, who has produced the book drawing on memories and photos from the area's residents.
"It is not a huge village but there is a community spirit," he said.
The history displays and an art exhibition take place at Garden Village Institute between 5-14 July.
A website has also been set up to explain more about the history of Garden Village.