NHS break even claims are 'fiction' and 'fantasy', say opposition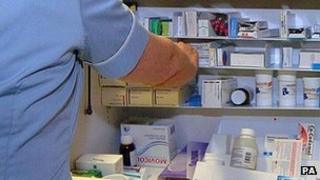 Welsh government claims that all health boards have broken even are "fiction" and "fantasy", opposition parties say.
Health Minister Mark Drakeford said in a statement that "all NHS organisations have met their statutory financial target to break-even in 2012-13".
Last December the seven local health boards (LHBs) shared an £82m cash injection to help balance the books.
Conservatives said the statement was "utter fiction", Liberal Democrats called it "fantasy accounting".
Seven months ago the then Health Minister Lesley Griffiths said the additional money was to respond to "unprecedented" pressures on the NHS in that financial year, particularly in emergency care.
She denied the funds amounted to a "bailout" for local health boards (LHBs).
In his statement on Thursday Mr Drakeford said: "The Welsh government has made no secret of the tough financial challenges NHS Wales has faced and continues to face as the UK government continues to cut even deeper into the Welsh budget.
"Through careful financial management of the total health and social services budget, the NHS was able to generate a small surplus of £61k, despite the unprecedented levels of pressure on unscheduled care and other services."
'Fantasy accounting'
But Shadow Health Minister Darren Millar responded: "To suggest that the Welsh NHS broke even without a need for additional financial support is complete and utter fiction.
"The Welsh NHS received an £82m bailout last December to prevent massive overspends at the end of the financial year and, even with this cash, some health boards - such as Powys and Betsi Cadwaladr - had to cancel thousands of planned operations to make ends meet, causing spiralling waiting lists and inconvenience for patients."
Liberal Democrats accused Mr Drakeford of engaging in "fantasy accounting".
Welsh Lib Dem leader Kirsty Williams said: "This is either a whole new level of spin or the health minister must be living in cloud cuckoo land.
"It's astonishing that he can claim that NHS Wales has broken even after health boards received a whopping £80 million pound bailout last December," she added.
The Welsh government is to introduce a bill to give health boards the flexibility to balance their budgets over three years rather than one.