Duchess of Cornwall's vow to try Swansea school fry-up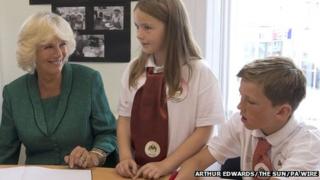 The Duchess of Cornwall has vowed to call into a school cafe for a fried breakfast after a budding 11-year-old entrepreneur told her all about it.
Nathan Hills, 11, tempted Camilla after reciting the ingredients on the menu at the cafe he helped set up at school.
The duchess met him while visiting a volunteer-run, financial co-operative in Swansea, which is helping pupils learn how to manage money.
She is with Prince Charles on their annual summer tour of Wales.
Visiting Swansea's Loans and Savings Abertawe (LASA) Credit Union, the duchess met a group of Craigfelen junior school bankers getting first-hand money management experience.
They were put forward as an example of what a local school is doing to teach the next generation to avoid the debt traps of today's adults.
The young bankers are overseeing the scheme which provides pupils with savings accounts which teach how pennies can turn into pounds.
Nathan told the duchess he has used the in-school money management scheme to save up and buy himself a pair of football boots.
He also explained that as a way of earning cash at school he has helped set up and run the Friday morning Craigfelen Cafe.
"What do you sell?" the Duchess asked the schoolboy during a round table discussion on finance at the LASA centre.
"Bacon rolls and we've started doing breakfasts now. The most we've made is £60. We charge £2 for breakfasts and £1 for a bacon roll," he said.
"What's in the breakfast?" the Duchess of Cornwall asked.
"Erm, hash browns, beans, sausages, bacon and eggs," he told her
"Well, next time I'm in Swansea I shall make sure I call in and have a breakfast," she added.
Coed Darcy
The duchess later visited the first Maggie's Cancer Caring Centre in Wales, which is set in the grounds of Singleton Hospital in Swansea, where she met former Welsh footballer and cancer survivor John Hartson.
She has been the president of Maggie's, which helps people with cancer and those affected by it, since 2008 and has previously visited a number of the centres around the UK.
She was told that the Swansea Maggie's will eventually be joined by a second centre based in Cardiff.
The Duchess of Cornwall was out conducting a series of visits in Swansea without her husband during their week-long annual tour of Wales.
On Friday, her husband will conduct a solo visit to the Coed Darcy town development near Neath.
On Wednesday, the royal couple visited the Doctor Who set at BBC Wales' Roath Lock studios, among other engagements in south Wales.
On Tuesday they undertook a series of engagements in north Wales, while on Monday the couple visited the last home of poet Dylan Thomas - the Boathouse in Laugharne, Carmarthenshire.