Totally Locally Prestatyn: High street shops help each other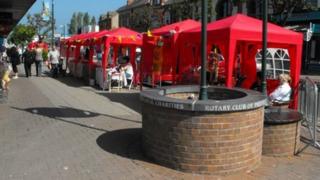 A campaign to encourage people to use their local shops more has been launched in Prestatyn, Denbighshire.
The Totally Locally initiative will see independent shops in the town's high street promoting each other.
Organiser Pete Harrison said most shops supported the scheme, which, for instance, sees a local cafe promoting meat from a nearby butchers.
More than £4m would be raised a year if Prestatyn's 18,500 residents spent £5 a week in independent stores, he claimed.
The Totally Locally initiative is designed to help independent shops and producers to promote and market themselves at little or no cost.
Mr Harrison said most shops in Prestatyn High Street were involved.
He said: "There's a new shopping park in Prestatyn, with the usual kind of stores you'd expect in an out-of-town retail park.
"The good thing is that the park is on the end of the high street. It's not segregated.
"It's given the opportunity for local businesses to offer Prestatyn high street as a brand.
"We're not fighting the supermarkets, it's about offering something a little bit different.
"We're all trying to support each other. For instance, there's a cafe with a sign saying 'Do you know all our produce is sourced from Joe Bloggs down the road?'
"Most of the shops have got a Totally Locally sticker.
"Network Rail have also allowed us to put signs up in the train station, so visitors can even see about it."
He said other events, including a "fiverfest," are planned.
Mr Harrison added: "It's where local businesses offer a genuine bargain that would normally cost up to £10, for £5.
"It's small things like that which will hopefully encourage people to come into the local independent shops and realise what's on offer."