Abolish Welsh national park authorities say council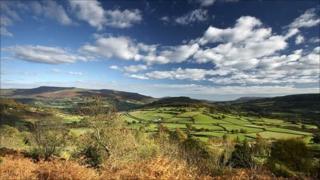 Wales' three national park authorities should be abolished and local councils should take over their role, it has been suggested.
The leaders of Powys, Gwynedd and Pembrokeshire councils claim the park bodies are no longer affordable.
But Pembrokeshire Coast National Park Authority's chief dismissed the idea and claimed the councils misunderstood.
He said scrapping Brecon Beacons, Pembrokeshire and Snowdonia park bodies would bring limited savings.
The park authorities are responsible for caring for some of Wales' most picturesque landscapes and they have full planning powers.
But with councils looking to make savings, the future of national parks has been brought into question.
Powys council's leader David Jones said in tough economic times it was difficult to justify national park planning services.
"It does seem strange that we have 22 local authorities in Wales but we have 25 planning departments in Wales. I find that very difficult to justify," Mr Jones told BBC Radio Wales.
"Local government and all public services in Wales are obviously feeling the effects of the financial situation.
"We're all being subjected to cuts but perhaps more importantly we're being told to cooperate with our neighbours.
'No-go area'
"Powys is working with Ceredigion in social services, in education.
"These [are the] type of things that we are doing at the moment and it does seem anomalous to us that the national parks are a no-go area."
Mr Jones said Brecon Beacons National Park was also responsible for economic development within its borders.
"If we're doing that work over 85% of Powys it seems to me to make sense that we do for the other little bit of Powys, presently covered by the national park," he added.
But the chief executive of Pembrokeshire Coast National Park Authority, Tegryn Jones, said scrapping national parks would result in limited savings.
"We all recognise we face difficult times and national park authorities are no different to the rest of the public service but national park authorities receive less than £15m of public money, so the view that national park authorities will save significant amounts of money is ill-informed and probably based on a lack of understanding of what we do," said Mr Jones on BBC Radio Wales.
"In Pembrokeshire the national park authority spends several hundred thousand pounds maintaining the coast path, a key tourism resource, so are the council leaders seriously suggesting that we stop doing things like that?
"No, this work would need to be undertaken by somebody else and probably in this case it will be with the local council, so you're not going to get any savings for the public purse."
He also denied claims that national parks looked after economic development.
'Greater collaboration'
"No national park authority in Wales has an economic development department," he added.
The chief executive of Snowdonia National Park Aneurin Phillips said consultants were looking at whether the three Welsh national parks could form closer ties over planning issues.
"Greater collaboration, joint working and integration between the three national parks at all levels is the way ahead in my view," he said.
"We also recognise that the debate about why we have 25 local planning authorities in Wales is inevitable in the context of future public sector cuts.
"However, the planning service in Wales has stood the test of time. We should not rush into a decision just to save money if what we create is a dysfunctional service."
Two-thirds of national park members are appointed by councils with a third by the Welsh government, but they are not directly elected.