South Wales specialist hospital plans: '5,000 opinions' in first weeks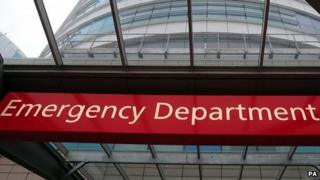 Controversial plans to centralise some specialist hospital services in south Wales have led to an unprecedented public response, say health officials.
NHS bosses believe only four or five hospitals should have consultant-led services such as accident and emergency and premature baby care.
They say the change is needed to ensure Welsh hospitals meet UK standards.
A two-month consultation on the plans has brought more than 5,000 individual responses in its first four weeks.
Five health boards have been drawing up the proposals, which include hospitals in Cardiff, Swansea, Newport and the valleys, since the start of 2012.
They argue that the changes are essential to ensure hospital care meets UK-wide professional standards and to deal with issues such as a shortage of doctors and increasing demand.
The plans - known as the South Wales Programme - involve:
Consultant-led maternity care
Specialist baby care
In-patient specialist children's care
Emergency medicine (A&E)
Eight hospitals in the region provide one or more of these services but senior health officials warn this is unsustainable.
Since September 2012 the health boards have been evaluating whether concentrating all those services in four or five centres would be most suitable.
The centres would include the University Hospital of Wales (UHW) in Cardiff, Morriston Hospital near Swansea and a new hospital to be built at Llanfrechfa Grange near Cwmbran.
This would incorporate some services from Nevill Hall hospital in Abergavenny and the Royal Gwent hospital in Newport.
The consultation is looking at whether Prince Charles Hospital in Merthyr Tydfil, the Princess of Wales Hospital in Bridgend or the Royal Glamorgan Hospital in Llantrisant would be the fourth or fifth centres.
Health officials have identified a "best-fit" option of services at the Bridgend and Merthyr Tydfil hospitals but not the Royal Glamorgan.
But they are also consulting on three other combinations involving the three hospitals.
Mike Powell, a Liberal Democrat councillor in Rhondda Cynon Taf where the Royal Glamorgan hospital is located, said there is much opposition in the county borough to the proposed changes.
He said: "The Royal Glamorgan caters for probably about 300,000 people within the area.
"The argument people are using is why remove services when you could keep them there in the centre of a 'diamond' of hospitals.
"The next major concern people have is the ambulances. Can you get us to hospital on time? They're not doing it now. So by moving the hospital further away, will that work? It certainly won't.
"If the consultation had started with no preferred option and just put the facts to the people as they are and said 'what do you think?', then I would have been more confident in it.
"But when they come out with the 'best fit' option - which to a lot of people is a preferred option by any other name - you have to think the decision has already been made."
The lead chief executive of the South Wales Programme, Andrew Goodall, told BBC Radio Wales' Eye on Wales programme that the public response to the consultation has been "more than we have in any other consultation before".
He denied that any decision had already been made.
He said: "It's not automatically the 'best fit'.
'Service with problems'
"We will still be looking at everything we have done to date - all of the data, the evidence and the clinical views - alongside all the views we receive from the public and our responsibility will be to take account of all of that."
"Change will have to happen.
"The only certainty I have is that there will be a hospital service with problems over the next 12 months and we will not be able to maintain that service. I would want to deal with that in a planned manner."
The public consultation closes on Friday 19 July. A final decision should be made by the health boards later in the autumn.
Eye on Wales can be heard on BBC Radio Wales at 13:30 BST on Sunday 30 June