Legacy makes late Derek Williams a giver of art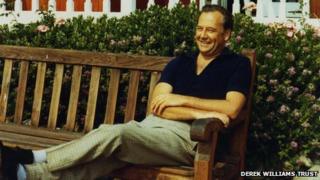 He was an intensely private man who loved golf and collecting modern art.
But now the trust set up in Derek Williams' name has become the greatest modern benefactor to the National Museum Wales.
The legacy of the Cardiff chartered surveyor has meant the trust has become the modern-day equivalent of the Davies sisters who donated French Impressionist art and other works a generation earlier.
In 20 years of giving, the museum says the Derek Williams Trust has made a unique contribution to the visual arts.
In 1993 the trust's collection comprised over 200 works of art by artists such as John Piper, Ceri Richards, Josef Herman, L.S. Lowry and many more.
Now doubled in size and with a particular interest in Welsh contemporary art, critics agree the collection is outstanding.
Mr Williams died in 1984, aged 55.
Howard Evans, one of the three original trustees charged with taking on the impressive art collection, said the chartered surveyor would be "quite astonished but delighted" at what has been achieved.
"I think he would probably have a good laugh to think what we have achieved from what was his own personal hobby."
Mr Evans said that after leaving school Mr Williams carried on the family tradition of chartered surveying in offices in Pontypridd and Cardiff and his career path had leant towards a natural interest in the arts.
A single man, he began collecting art from the Howard Roberts gallery in Cardiff and also, as he had a home in the Cotswolds, from Marlborough Arts.
"The executors of the original estate, led by Ivan Sadka, were conscious of Derek Williams' long-term desire to encourage the display of his collection and also its curation," said Mr Evans.
"They therefore decided to set up a trust to enhance his collection further and to ensure that its display and management would be best served through cooperation with National Museum Cardiff."
Fellow trustee Joan Winter, who was Mr Williams' secretary for 27 years, remembers her good friend as a "determined character" who knew how to drive a good bargain in his art acquisitions.
"He was a very private man. But he was also particularly handsome, he was a gentleman," she said.
"He liked a bit of fun, he like a challenge.
"He was not 100% fit, so he enjoyed playing golf once or twice a week at the Royal Porthcawl Club - he played in a team called The Sparrows."
After he died, artworks were found dispersed around the four properties owned by Mr Williams, some even stored in a wardrobe.
As well as the focus on collecting and displaying art after 1900, the Derek Williams Trust has also supported National Museum Wales' acquisitions.
With £2.6m support from the trust in the last two decades, and funding from bodies like the Heritage Lottery Fund and the Art Fund, National Museum Wales has transformed its modern and contemporary art collection, acquiring works by artists including Picasso, Peter Blake and David Hockney.
The trust, which generates its income through investments, also provided a grant to the contemporary art wing in Cardiff which opened in 2011 and also funds a £30,000 purchase prize in the biennial Artes Mundi.
It has also supported gold medal winners at the National Eisteddfod and two major water features at the National Botanic Garden of Wales.
David Anderson, National Museum Wales director general, said: "The Derek Williams Trust's unique contribution to the visual arts will provide a lasting legacy for the people of Wales.
"The generous support of the Derek Williams Trust has transformed the museum's collection of 20th Century art and parallels the great bequests of French Impressionist art made by Gwendoline and Margaret Davies a generation earlier.
"In times of economic difficulty for museums across the UK, this support cannot be underestimated.
Trustee Howard Evans said they were particularly proud of the trust's "catalyst effect" in spurring on others to back Welsh art.
The original three trustees have now become seven, he said, and they hoped they will "carry forward the flame".
And Joan Winter added that she would like to see more recognition for the trust's work.
"I would like to think that when my days as a trustee are over we have established something that will go on for Wales."