South Hook power station plans handed to UK government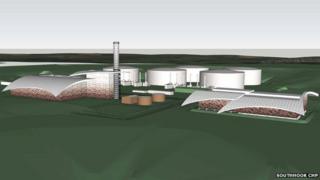 Plans for a 500MW gas fired power station in Pembrokeshire are to be examined by the UK government.
The Planning Inspectorate said it had accepted the South Hook power plant proposal for further scrutiny.
A final decision on building it will be made by Communities and Local Government Secretary Eric Pickles.
The plant at the LNG (liquefied natural gas) terminal near Milford Haven would produce enough electricity to power 900,000 homes.
Open meetings
The decision by the Planning Inspectorate to accept the proposal submitted by QPI Global Ventures means there will now be a full public consultation process.
"It is now for the applicant, QPI Global Ventures Ltd, to publicise the fact that its application has been accepted to proceed to examination and invite people who are interested in the proposal to register with the Planning Inspectorate as an interested party," said the inspectorate in a statement on Friday.
Those who register can then ask the inspectorate to hold open meetings to discuss the plans.
The inspectorate said representations can by made through its website for the project.
It will then make a recommendation to the UK minister by the end of September, and the minister has until the end of December to make his final decision.
If the scheme is given the go-ahead it will take two years to build and will start producing energy in late 2016.
Environmental campaigners have called on the companies involved to use the most efficient technology available.
The South Hook LNG terminal, the largest of its kind in Europe, opened in 2009 after six years of planning and construction.
RWe Npower has a 2,000MW gas-fired power station nearby in Pembroke.