Wales school headteacher shortage concerns NAHT union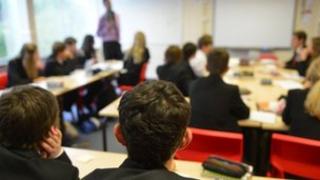 Concerns have been raised about a shortage of headteachers after figures revealed a number of councils in Wales have struggled to fill posts.
The National Association of Head Teachers (NAHT) says it is due to pressure of work and lack of training.
It is more of a problem in Welsh language and faith schools, says the union.
The Welsh government says it is aware there is a shortage in some areas, and it is keeping an eye on the situation.
National figures are not kept but the BBC's Welsh language online news service Newyddion Ar-Lein approached all 22 local authorities, and obtained figures from 13.
Anna Brychan from NAHT Cymru said it appeared the problem was getting worse.
"It is certainly a concern that is mentioned increasingly by our members, which suggests we are dealing with a more complex problem than previously," she said.
Statistics are available on the age of headteachers in schools and although the situation is worse in England, "new blood" will be needed soon as a number are on the verge of retirement, Anna Brychan added.
"There has been a concern for a number of years that there is quite a large crop of headteachers who are due to retire, and we will be looking for people to step into their shoes in the near future," she said.
The NAHT said the role of a headteacher had changed over the past 10 years, and difficult economic times were making things worse.
"It's possible to argue that children suffer more than anyone in this respect," said Ms Brychan.
"Some of these children need support and there is a need to work closely, in a number of cases, with the health service and social services.
"This puts extra pressure on schools, especially at a time of reducing budgets over the next years, to find the sort of services which the children will need."
'Extra pressure'
Teachers have to complete the National Professional Qualification for Headship (NPQH) before becoming a headteacher, and Ms Brychan said there was a need to develop teachers' skills both early and later in their careers.
"I believe there is a need to look again at the skills and professional development we offer to headteachers once they are in post because we are by now looking at models which are maybe a bit different - being head of more than one school, for example."
The NPQH qualification should also be better tailored so that training is given to cover areas and sectors where there is a shortage, she added.
The Welsh government acknowledged a shortage of headteachers in some areas of Wales, and said it was keeping an eye on the situation.
Planning
"While over 800 teachers hold the National Professional Qualification for Headship (NPQH), and are therefore able to apply for headship posts, we recognise that there are fewer applicants in some areas and certain sectors," said a spokesperson.
"To ensure we meet recruitment needs we continue to review the overall numbers of places available for NPQH assessment.
"We would also consider targeting in shortage areas subject to that being justified by detailed local workforce planning data."
The Welsh Local Government Association said everyone worked together to make sure the best candidates were chosen.
"The Welsh government, teaching unions and local government will need to work together on recruitment and training to ensure that Wales can not only fulfil the demand for new headteacher positions, but that the people put in place can provide the level of leadership required to improve educational outcomes for learners in Wales," said a spokesperson.