Water safety: Mother Debbie Turnbull's appeal to young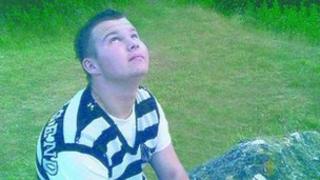 A mother whose 15-year-old son drowned is highlighting the dangers of water to children, with the school summer holidays set to begin.
Christopher Turnbull died at Cyfyng Falls near Capel Curig, Gwynedd, in August 2006.
His mother Debbie, from Llandudno, Conwy, launched River and Sea Sense, an organisation which tries to educate youngsters about water safety.
She will visit schools in a week-long campaign starting later on Friday.
Her son was playing with friends following heavy rain during the summer holidays.
He disappeared under the water and his body was found following a six-hour search.
After his death, Ms Turnbull vowed to try to educate young people about the dangers associated with water.
She said she was shocked that pupils, parents and teachers were lacking "basic information" about water safety, and believes it should form part of their education.
She said: "People are not aware of the obvious dangers when they go to a river or quarry or canal because at first glance on a hot sunny day it looks so inviting."
Ms Turnbull has launched a week-long campaign, until 5 July, and on Friday spoke to pupils at John Bright School in Llandudno.
She also accompanied a group of children to nearby Aber Falls to try and teach them about river dangers.
She said: "We've only got a few weeks until the summer holidays and I want to get the message across.
"I will speak to the children and I want to open up about what happened to Chris, and to give out warnings to parents, children and teachers."