Free wi-fi launched in Cardiff city centre by 2015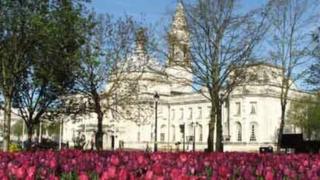 Free high-speed wi-fi is to be rolled out across the whole of Cardiff city centre along with public buildings, schools and buses by 2015.
The move comes after Cardiff council secured over £10m of Super Connected Cities funding from the UK government's Department of Culture, Media and Sport.
The funding will allow people to connect to the internet at a speed of 100Mbit/sec.
Areas where there is a high footfall will also have 4G wireless access.
Making the announcement at Digital Cardiff Week, councillor Russell Goodway, the council's cabinet member for finance, business and local economy, said Cardiff was a "young, talented, ambitious, fast-growing city".
"It's little known but Cardiff is already one of the most digitally-connected cities in Britain with a higher percentage of our households able to access super-fast broadband than any of the other major UK cities," he said.
"There are however gaps which need to be filled."
He said he was looking to address the lack of a data centre for storage capacity and poor connections to some business parks.
Mr Goodway added: "High-footfall areas of the city will also have 4G wireless connectivity - indeed there will be free-to-access high-speed wi-fi in Queen Street, High Street and St Mary's Street in time for Christmas."
He said free wireless access would be available in all public buildings, schools and buses as well as across the whole city centre by March 2015.
Cardiff is one of 11 cities in the UK where 4G (fourth generation) broadband speeds has been introduced.