Ambulance target missed for 12th month in a row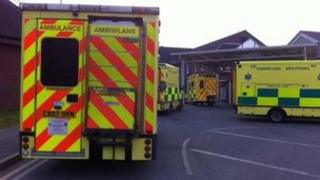 Wales ambulances failed to meet the national response time targets for life-threatening calls within eight minutes for the 12th month in a row.
Figures for May show the 65% target was not met with only 62.5% arriving in time but that was up on April's figure.
Ambulances reached 80% of the calls in 12 minutes and 94% within 20 minutes.
Last month, the national response time target for life-threatening calls were missed in every local authority area last month.
Conservative health spokesman Darren Millar said the figures made "worrying reading" about the state of the Welsh NHS.
'Unthinkable'
He added: "These damaging cuts, together with Labour's plans to downgrade accident & emergency units forcing vulnerable patients to travel further to fewer treatment centres, threaten to make ambulance response time targets even more difficult to meet.
"I strongly urge the Welsh government to accelerate the implementation of recommendations from the latest ambulance review and urgently reverse Labour's record-breaking NHS cuts."
Welsh Liberal Democrat leader Kirsty Williams described the figures as "appalling".
"Targets here in Wales are already 10% behind those in England and Scotland, yet still Wales is missing these unambitious targets," she said.
"It's good to see that there has been improvement in performance when compared to the previous month. However the figures were so bad then that, quite frankly, it was unthinkable that they could get much worse."