Agricultural workers' pay: Emergency bill from Welsh government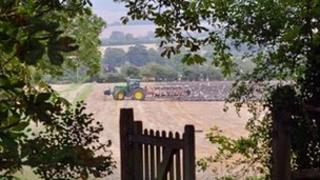 An emergency bill has been introduced to allow the Welsh government to have powers over farm workers' pay and conditions in Wales.
The bill is scheduled to be passed by mid-July in contrast to the normal period of several months.
It would allow Welsh ministers to retain the functions of the Agricultural Wages Board (AWB), which was abolished on Tuesday.
The board set the pay and conditions of more than 13,000 Welsh farm workers.
It has been a forum for employer and employee representatives in both Wales and England to decide jointly on wages and conditions for 65 years.
The UK government argued that removing the board would enable the industry to adopt flexible working practices and help ensure a sustainable and viable future for agriculture.
The Welsh government opposed its abolition but was told by Whitehall it was not a devolved matter since it dealt primarily with non-devolved employment issues rather than agriculture.
The emergency bill will have two debates during plenary sessions in the assembly on 9 and 16 July, followed by a vote into law on 17 July.
It is unprecedented for the Welsh government to attempt to pass a bill in such a tight timescale.
'Protected'
The government currently holds a majority in the assembly due to the resignation of Ynys Mon assembly member Ieuan Wyn Jones.
A date for the by-election to choose his successor has not yet been set.
Back in January, a Department for Environment, Food and Rural Affairs (Defra) spokesman said: "Abolishing the Agricultural Wages Board is in the long term interests of the farming industry and farm workers.
"Like all other workers across the economy, they will protected by the national minimum wage and modern employment legislation.
"Our position remains that AWB is an employment issue which is not devolved from national government."
The new bill would set up an agricultural advisory panel for Wales which would advise Welsh ministers on agricultural wages and other terms of employment.
Scotland and Northern Ireland have their own wages board.