Monmouthshire council limits bin bags to two a fortnight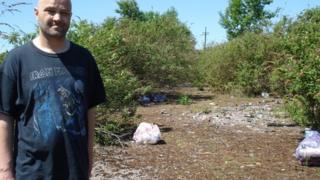 Residents in Monmouthshire are to be limited to putting out two bin bags of rubbish a fortnight in an attempt to make them recycle more.
The council's non-recyclables limit is the strictest in Wales as it aims for recycling rates of 58% by 2015/16.
More than 1,000 people have signed an online petition against the limit.
But the authority says it can afford neither to keep paying millions of pounds in landfill tax, nor fines for missing recycling targets.
It believes up to 70% of what is thrown away is recyclable or food waste.
"Monmouthshire has said it's making a priority of education and social services, and we bluntly have got to save about £4m in this year - and we've got to find it where we can," councillor Bryan Jones told the BBC's Eye on Wales programme.
"So for us to be throwing £3m into landfill every year - it's plainly a total waste of money.
"By 2015/16 we need to increase our recycling to 58% and if we miss those targets, we have the consequences of having a fine - for every 1%, about £100,000 - so it's significant."
Caldicot town councillor Patrick Maycock-Jones opposes the limit, and believes it will lead to more fly-tipping.
"With the two-bag rule, it's going to get even worse," said Mr Maycock-Jones.
"People will put more than two bags out. But if the council leaves it behind, are people going to leave it outside their house or are they going to find somewhere to dump it?
"People will find somewhere to dump it because they don't want the litter strewn outside their house," he said.
Monmouthshire council stresses that fly-tipping is an offence, and offenders will be prosecuted.
In April, plans for clear bin bags that would have allowed the council to check on what people throw away were scrapped following opposition.
It had hoped to use the bags instead of black ones to encourage recycling, hailing it as a UK first.
With councils warning of further service cuts in the latest spending squeeze, Welsh Local Government Association environment spokesman Andrew Morgan said more areas could face restrictions in the future.
"Local authorities have to look at every possible avenue to save money and they will be looking at everything possible to try and get more people to recycle because ultimately the landfill tax continues to rise every single year," he said.
"That means just burying the waste at the current level just gets more and more expensive every single year."
According to the council's website: "Most councils throughout the UK already limit the amount of waste their residents can put out for collection".
It will also allow residents to put out two extra bags on the first collection day after Christmas, although householders are told: "You will need to provide these bags yourself".
Waste from Wealth, a report issued this month by the Local Government Association, representing English councils, said 43% of household waste in England was now recycled, up from 13 per cent in 2001/02.
It said the UK was on its way to hitting the EU target of recycling 50% by 2020 and said: "All indications show that there is not a clamour for a return to the days of a weekly collection of a single bin".
It quotes incentives used by various councils, such as Wokingham, whose recycling rewards scheme gives residents points to be used to get vouchers to spend in local shops, cinemas and sports facilities.
But among its recommendations to the government is one that kerbside collection arrangements should be left as a "a local deal between councils and their residents and are not a proper subject of national policies".
Eye on Wales is on Sunday at 13:30 BST on BBC Radio Wales and on iPlayer after the show.