Rhondda Heritage Park: Lewis Merthyr closure service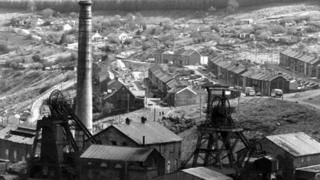 A remembrance service has been held to mark the 30th anniversary of the closure of pits at the heart of the former south Wales coalfield.
Saturday's event at Rhondda Heritage Park also saw a plaque unveiled as a lasting memorial to all those who lost their lives in mines across the area.
Nine men were killed at Lewis Merthyr 57 years ago following an explosion.
The Lewis Merthyr band and Cor Meibion Morlais also performed at the service.
Nicola Newhams, of Rhondda Heritage Park, said Lewis Merthyr Day was a highlight of the calendar, and this year was special.
Lewis Merthyr used to be one of five pits known as the Merthyr Consolidated Collieries. At their peak, in 1891, they employed about 5,000 workers producing almost one million tons of coal a year.
Until the 1950s the coal industry maintained a steady level of production and employment, but then saw a continuing decline.
Two years after the 1956 explosion Lewis Merthyr and the neighbouring Ty Mawr colliery merged but by July 1983, mining ceased.
The following year the miners' strike began and seven years later no productive colliery existed in the Rhondda.
Rhondda Cynon Taff mayor Anne Cummings unveiled the memorial plaque commissioned by the Friends of Rhondda Heritage Park.