Rhoose school crash: Girl, nine, remains in intensive care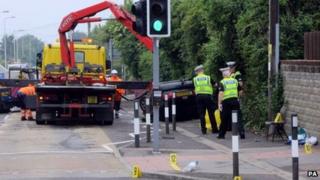 A nine-year-old girl remains in intensive care after a car overturned outside a south Wales primary school injuring nine people.
Five of the injured were Rhws Primary School pupils aged between five and 10. A lollipop lady and two other women were also hurt as well as the driver.
The incident happened as parents took their children to school in Rhoose, Vale of Glamorgan on Thursday morning.
Police are not treating the incident as a deliberate act.
A major incident response was launched following the incident at about 08:50 BST and dozens of police officers, fire crews, ambulance teams went to the scene which was described as looking like "a war zone" by people living nearby.
Four girls and a boy, all aged under 10, were taken to hospital as well as the driver and three women.
One girl remains in intensive care with a fractured skull at the University Hospital of Wales in Cardiff.
Dr George Findlay said she was in a serious but stable condition receiving specialist paediatric care with input from other services such as neurosurgery.
He added: "We've got three other children in paediatric wards. They have less serious but still significant injuries. They're all in a stable condition and making satisfactory progress."
The school lollipop lady Karin Williams and two other women were treated for broken bones.
South Wales Police are continuing their investigation into the crash.
One theory is that the 61-year-old driver, who has been named locally as Robert Bell, had a coughing fit and hit the Audi Cabriolet's accelerator instead of the brake.
He is helping police with their inquiries.
Counselling
Education psychologists have been offering support to pupils at the school, which remained open after Thursday's incident.
Family psychologist Melanie Gill said in situations like this it is the parents who often need a lot of help in explaining what has happened to the children.
She told BBC Radio Wales: "It may take a little while. Some (children) may be very frightened and other might hide their own distress in order to take care of their parents.
"If a parent is distressed they have to show why they are distressed to their child."
Following the incident, a number of children were treated for shock at the scene as were several members of the public.
One resident Glenys Watson described how the daily school run descended into what looked like "a war zone".
"Parents heard the bang and thought it was a gun," she said. "They didn't know what happened."
Another resident told BBC News she heard reports of a dark car swerving before hitting a bollard and "going up in the air".
"Apparently the driver had a coughing fit and slammed on the accelerator instead of the brake," she said.
Eluned Parrott, the assembly member for South Wales Central and a parent who has children at the school, praised the support that had been offered to those affected by the crash.
She told Radio Wales: "It has been a huge shock for people whether you're a parent of a child at the school or not and the community is very close and we all know somebody who has been involved.
"However, the benefit of that kind of closeness means that people are rallying around.
"I know for example the church is open this morning to let people have a few minutes quiet contemplation or to talk to one another. It is a very supportive community and I think we're very lucky to live here."
She also appealed for the village to be left alone to be able to come to terms with what had happened.
"I think the important thing is as a village and a community we are given the time and space to come to be able to terms with this in our own way now."
Chief Supt Joe Ruddy of South Wales Police appealed for witnesses.
"We have a team of very skilled investigators who are now carrying out inquiries to establish exactly what caused this collision to take place," he said.
"I would like to thank those who assisted at the scene with first aid and those who have taken the time to contact us to provide witnesses statements."